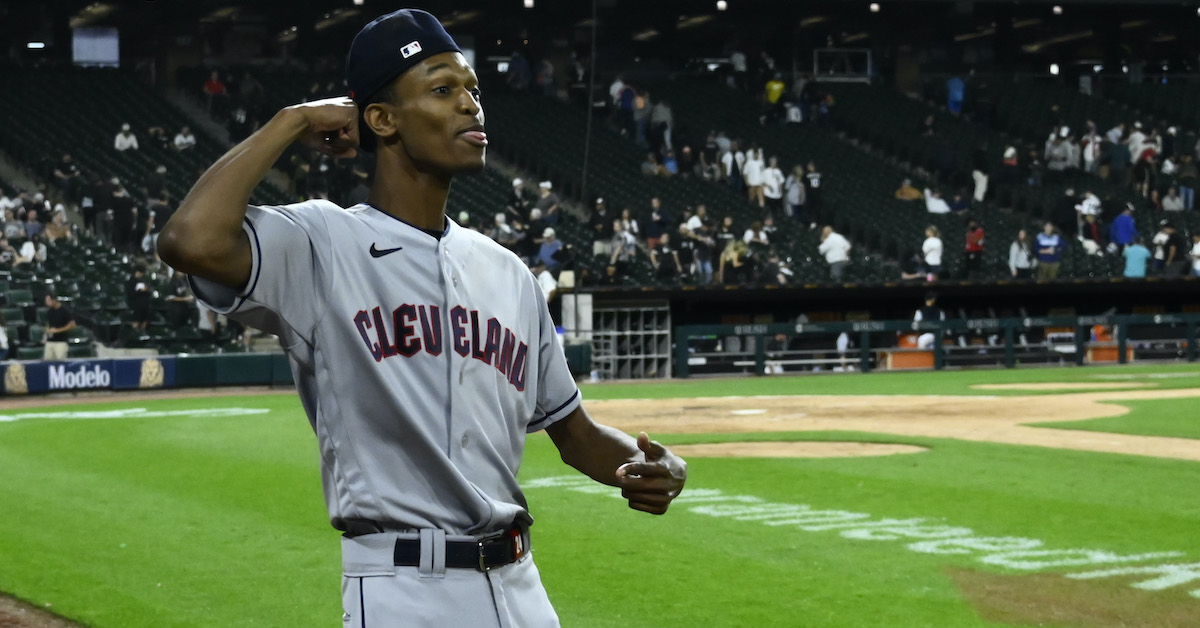 Triston McKenzie was once 19 years previous and pitching for High-A Lynchburg when he was once first featured right here at FanGraphs in May 2017. Five years later, he's one of the most most sensible starters on a proficient Cleveland Guardians workforce. In 31 appearances this season, the lanky right-hander logged a 2.96 ERA and a 3.59 FIP with 190 strikeouts in 181.1 innings. Last week, he tossed six scoreless frames and allowed simply two hits in Cleveland's Wild Card Series-clinching win over the Tampa Bay Rays.
McKenzie, the scheduled starter for ALDS Game 3 as opposed to the New York Yankees on Saturday, mentioned his evolution as a pitcher and the mindset he's taking with him to the mound right through the Guardians' ultimate house stand of the common season.
———
David Laurila: We first talked 5 years in the past. What have you ever realized about pitching since that point?
Triston McKenzie: "The biggest difference is that I'm in the big leagues. Mindset-wise, how I attack hitters hasn't changed much outside of adapting to this level and understanding that guys are more disciplined in what they do in their approach. I've figured out that you can't always be the the young gun, the kid who is going to throw his best stuff over the heart of the plate. These guys can hit that. So I'd say it's a mix of finding my identity as a pitcher, figuring out what my strengths are and where I can beat guys, but not getting so headstrong that it's to my detriment."
Laurila: How a lot better do you know the way, and why, your stuff works? You're clearly running with good coaches and seeing a lot of knowledge.
McKenzie: "I think the data helps, but I feel like I'm more of a pitcher that goes out there based on feel, and day to day that can change. A lot of it is me trying to figure out, 'What is the best I can get out of my body today?'"
Laurila: That stated, have you ever at all times identified that you simply get just right experience in your four-seamer, or did you most commonly simply know that it was once efficient up within the zone?
McKenzie: "One of the things that my dad taught me when I was nine years old was to throw the ball at the top of the zone and try to get guys to swing at it. Their eyes will light up when they see that pitch, so it's something I've always done. But honestly, it wasn't until recently that the numbers became a super big thing."
Laurila: What is your dad's baseball background?
McKenzie: "He never played; he just loves the game and would watch MLB Network and listen to the guys that he really respected, like Pedro Martinez. He would listen to how they talk about the game and then regurgitate what he heard. He would put it in a way that made sense to me, where I could use it for myself. He didn't give me information that was useless."
Laurila: Can you elaborate on why he sought after you to paintings up within the zone? Until not too long ago, it was once extra commonplace for children to be informed to paintings down.
McKenzie: "I think it was mostly what he saw working in the big leagues at that time, especially with guys I used to like to watch, When Roger Clemens and other power pitchers wanted to get chases with their heaters, they would throw to the top of the zone. When I was younger, my dad also didn't want me throwing a lot of breaking balls, so he taught me to move my heater around."
Laurila: This began while you have been 9 years previous.
McKenzie: "Right around nine or 10, when I first started pitching. But I'd say that it really sank in that my heater was good and could play almost anywhere in the zone around my senior year of high school."
Laurila: How has your your pace developed over time?
McKenzie: "I've done a good job of maintaining my velocity from start to finish this year. There were times in the minors where I would be slower earlier in the game, I'd be low 90s, and then I would jump up, only to go back down toward the end of the game. I've found a level of consistency over time. I think that has to do with being part of a big league team and learning a rhythm, kind of just figuring out a routine that works for me."
Laurila: Is pace vital in your recreation, or is your effectiveness extra about motion and sequencing?
McKenzie: "I think it's a little bit of both. Like I said earlier, you need to know what you have out of your body. You're not necessarily going to feel 96 to 100 [mph] every day. If I go out there and my arm feels kind of slow or my body feels kind of tired, and I know I only have 90–91 in the tank, I need to figure out a way to be effective with the 90–91. Maybe that's at the bottom of the zone, or I might need to use my off-speed early to make my fastball seem a little bit harder. When my velo isn't necessarily there, it's about pitch usage and trying to establish lanes for my heater to be effective."
Laurila: Any ultimate ideas?
McKenzie: "Different pitches paintings in a different way. If you have been to invite me why my utilization seems how it does, why it turns out to be useful for me… I imply, have a look at other pitchers. For example, [Andrés] Muñoz for Seattle. I'd have an interest to peer why he throws his slider up to he does when he throws [his fastball] 102. Is there a explanation why? If he throws his slider 30 % of the time, does that makes his fastball more practical than if he threw it roughly than 30 % of the time?
"When I threw against the White Sox, I used more off-speed, because they are a more heater-happy lineup. I had more success against them, and I'd want to see if there are certain usages for other pitchers, even for myself, that work better against certain lineups, and vice versa."
Laurila: Is that form of knowledge no longer to be had to you?
McKenzie: "I imply, we now have our day by day write-ups, pre-game, for what the precise lineup goes to be, what the ones strengths are, and what my strengths are. From there, it's most commonly about seeking to keep out of the hitters' strengths and pitching to yours in addition to you'll be able to.
"If our competition doesn't hit curveballs… maybe in one guy's at-bats, I throw more curveballs for strikes or I throw more curveballs in the middle of the count as opposed to trying to just finish him with curveballs. Conversely, his teammate is a guy that sees curveballs in the zone well, so I might go after him a little differently."
Laurila: What's is the next move with regards to building? Is there the rest you'd like so as to add in your repertoire, or do any of your present pitches want fine-tuning?
McKenzie: "Right now, it would be developing my slider more, developing a more consistent shape and speed for it. I think my curveball is in a good spot in terms of consistency. As a starting pitcher, a majority of what I'm trying to do on the mound is be consistent with my fastball, moving it around and having the velocity be consistent, and being able to throw my curveball both for strikes and not for strikes. Right now, my slider is the one that I have the least control of in terms of consistency and shape. Making that pitch better is the next step for me."