It is level at half-time, which is a very fair reflection of the match thus far. Neither team has tested the goalkeeper apart from the goals. Neither team looks high on confidence and they cannot get their creative players into the match. Will things open up in the second?

","elementId":"36e661ac-74ea-4514-ae47-c763c1bb5235″}],"attributes":{"pinned":false,"keyEvent":true,"abstract":false},"blockCreatedOn":1665431141000,"blockCreatedOnDisplay":"15.45 EDT","blockLastUpdated":1665431237000,"blockLastUpdatedShow":"15.47 EDT","blockFirstRevealed":1665431237000,"blockFirstPublishedDisplay":"15.47 EDT","blockFirstPublishedDisplayNoTimezone":"15.47″,"identify":"Half-time: Nottingham Forest 1-1 Aston Villa","individuals":[],"primaryDateLine":"Mon 10 Oct 2022 15.51 EDT","secondaryDateLine":"First revealed on Mon 10 Oct 2022 14.00 EDT"},{"identity":"634470328f083d981ab0e0f7″,"parts":[{"_type":"model.dotcomrendering.pageElements.TextBlockElement","html":"

WHAT A HIT! Cook heads the ball out to Young, who takes a touch and absolutely pings a low shot into the bottom corner from 25 yards out.

","elementId":"d58fb9aa-6f1b-4c39-aece-c0413c237fb8″},{"_type":"model.dotcomrendering.pageElements.ImageBlockElement","media":{"allImages":[{"index":0,"fields":{"height":"1892″,"width":"3152″},"mediaType":"Image","mimeType":"image/jpeg","url":"https://media.guim.co.uk/d79514d0e6a6350a3b424686142c03d0446cfce5/0_109_3152_1892/3152.jpg"},{"index":1,"fields":{"isMaster":"true","height":"1892″,"width":"3152″},"mediaType":"Image","mimeType":"image/jpeg","url":"https://media.guim.co.uk/d79514d0e6a6350a3b424686142c03d0446cfce5/0_109_3152_1892/master/3152.jpg"},{"index":2,"fields":{"height":"1200″,"width":"2000″},"mediaType":"Image","mimeType":"image/jpeg","url":"https://media.guim.co.uk/d79514d0e6a6350a3b424686142c03d0446cfce5/0_109_3152_1892/2000.jpg"},{"index":3,"fields":{"height":"600″,"width":"1000″},"mediaType":"Image","mimeType":"image/jpeg","url":"https://media.guim.co.uk/d79514d0e6a6350a3b424686142c03d0446cfce5/0_109_3152_1892/1000.jpg"},{"index":4,"fields":{"height":"300″,"width":"500″},"mediaType":"Image","mimeType":"image/jpeg","url":"https://media.guim.co.uk/d79514d0e6a6350a3b424686142c03d0446cfce5/0_109_3152_1892/500.jpg"},{"index":5,"fields":{"height":"84″,"width":"140″},"mediaType":"Image","mimeType":"image/jpeg","url":"https://media.guim.co.uk/d79514d0e6a6350a3b424686142c03d0446cfce5/0_109_3152_1892/140.jpg"}]},"information":{"alt":"Aston Villa's Ashley Young (centre) celebrates with team-mates after scoring their equaliser.","caption":"Aston Villa's Ashley Young (centre) celebrates with team-mates after scoring their equaliser.","credit score":"Photograph: Rui Vieira/AP"},"displayCredit":true,"position":"inline","imageSources":[{"weighting":"inline","srcSet":[{"src":"https://i.guim.co.uk/img/media/d79514d0e6a6350a3b424686142c03d0446cfce5/0_109_3152_1892/master/3152.jpg?width=620&quality=85&auto=format&fit=max&s=d3abf53eae65a0e275dd1e261d44d3a3″,"width":620},{"src":"https://i.guim.co.uk/img/media/d79514d0e6a6350a3b424686142c03d0446cfce5/0_109_3152_1892/master/3152.jpg?width=620&quality=45&auto=format&fit=max&dpr=2&s=f3d72c42def1859c669da7a09849319a","width":1240},{"src":"https://i.guim.co.uk/img/media/d79514d0e6a6350a3b424686142c03d0446cfce5/0_109_3152_1892/master/3152.jpg?width=605&quality=85&auto=format&fit=max&s=d0a897bc93a7896472c111eea0c2728a","width":605},{"src":"https://i.guim.co.uk/img/media/d79514d0e6a6350a3b424686142c03d0446cfce5/0_109_3152_1892/master/3152.jpg?width=605&quality=45&auto=format&fit=max&dpr=2&s=4c8437f5a7df1786769eaf5337084b9f","width":1210},{"src":"https://i.guim.co.uk/img/media/d79514d0e6a6350a3b424686142c03d0446cfce5/0_109_3152_1892/master/3152.jpg?width=445&quality=85&auto=format&fit=max&s=5d5aa974dcc70f7248c47bd188b51a42″,"width":445},{"src":"https://i.guim.co.uk/img/media/d79514d0e6a6350a3b424686142c03d0446cfce5/0_109_3152_1892/master/3152.jpg?width=445&quality=45&auto=format&fit=max&dpr=2&s=046ba4e5c3a04761aeddfcd0bb350c5c","width":890}]},{"weighting":"thumbnail","srcSet":[{"src":"https://i.guim.co.uk/img/media/d79514d0e6a6350a3b424686142c03d0446cfce5/0_109_3152_1892/master/3152.jpg?width=140&quality=85&auto=format&fit=max&s=701dc26a1b1d4d7796061b504683dd40″,"width":140},{"src":"https://i.guim.co.uk/img/media/d79514d0e6a6350a3b424686142c03d0446cfce5/0_109_3152_1892/master/3152.jpg?width=140&quality=45&auto=format&fit=max&dpr=2&s=916cc598a5373d11d32c00ad89f48e75″,"width":280},{"src":"https://i.guim.co.uk/img/media/d79514d0e6a6350a3b424686142c03d0446cfce5/0_109_3152_1892/master/3152.jpg?width=120&quality=85&auto=format&fit=max&s=5fd61ba91cdc705357ba9edbe24f1002″,"width":120},{"src":"https://i.guim.co.uk/img/media/d79514d0e6a6350a3b424686142c03d0446cfce5/0_109_3152_1892/master/3152.jpg?width=120&quality=45&auto=format&fit=max&dpr=2&s=f511ea8b9ad28eef64ab53d9add05e35″,"width":240}]},{"weighting":"supporting","srcSet":[{"src":"https://i.guim.co.uk/img/media/d79514d0e6a6350a3b424686142c03d0446cfce5/0_109_3152_1892/master/3152.jpg?width=380&quality=85&auto=format&fit=max&s=1e9eb12ea203f10c1ed26e46f3915cfa","width":380},{"src":"https://i.guim.co.uk/img/media/d79514d0e6a6350a3b424686142c03d0446cfce5/0_109_3152_1892/master/3152.jpg?width=380&quality=45&auto=format&fit=max&dpr=2&s=2b731ed571495b2d12dd6d0232ca8964″,"width":760},{"src":"https://i.guim.co.uk/img/media/d79514d0e6a6350a3b424686142c03d0446cfce5/0_109_3152_1892/master/3152.jpg?width=300&quality=85&auto=format&fit=max&s=66a702fc1a88cea21a3b652fcef1f90a","width":300},{"src":"https://i.guim.co.uk/img/media/d79514d0e6a6350a3b424686142c03d0446cfce5/0_109_3152_1892/master/3152.jpg?width=300&quality=45&auto=format&fit=max&dpr=2&s=3c08c8860753711a261a263ac3cea64b","width":600},{"src":"https://i.guim.co.uk/img/media/d79514d0e6a6350a3b424686142c03d0446cfce5/0_109_3152_1892/master/3152.jpg?width=620&quality=85&auto=format&fit=max&s=d3abf53eae65a0e275dd1e261d44d3a3″,"width":620},{"src":"https://i.guim.co.uk/img/media/d79514d0e6a6350a3b424686142c03d0446cfce5/0_109_3152_1892/master/3152.jpg?width=620&quality=45&auto=format&fit=max&dpr=2&s=f3d72c42def1859c669da7a09849319a","width":1240},{"src":"https://i.guim.co.uk/img/media/d79514d0e6a6350a3b424686142c03d0446cfce5/0_109_3152_1892/master/3152.jpg?width=605&quality=85&auto=format&fit=max&s=d0a897bc93a7896472c111eea0c2728a","width":605},{"src":"https://i.guim.co.uk/img/media/d79514d0e6a6350a3b424686142c03d0446cfce5/0_109_3152_1892/master/3152.jpg?width=605&quality=45&auto=format&fit=max&dpr=2&s=4c8437f5a7df1786769eaf5337084b9f","width":1210},{"src":"https://i.guim.co.uk/img/media/d79514d0e6a6350a3b424686142c03d0446cfce5/0_109_3152_1892/master/3152.jpg?width=445&quality=85&auto=format&fit=max&s=5d5aa974dcc70f7248c47bd188b51a42″,"width":445},{"src":"https://i.guim.co.uk/img/media/d79514d0e6a6350a3b424686142c03d0446cfce5/0_109_3152_1892/master/3152.jpg?width=445&quality=45&auto=format&fit=max&dpr=2&s=046ba4e5c3a04761aeddfcd0bb350c5c","width":890}]},{"weighting":"show off","srcSet":[{"src":"https://i.guim.co.uk/img/media/d79514d0e6a6350a3b424686142c03d0446cfce5/0_109_3152_1892/master/3152.jpg?width=860&quality=85&auto=format&fit=max&s=e2aa4595f7eff20e5edc96f7a1814893″,"width":860},{"src":"https://i.guim.co.uk/img/media/d79514d0e6a6350a3b424686142c03d0446cfce5/0_109_3152_1892/master/3152.jpg?width=860&quality=45&auto=format&fit=max&dpr=2&s=2a5bdc90056c2dc513c9899f04553669″,"width":1720},{"src":"https://i.guim.co.uk/img/media/d79514d0e6a6350a3b424686142c03d0446cfce5/0_109_3152_1892/master/3152.jpg?width=780&quality=85&auto=format&fit=max&s=792e73f85844cc639c6befa3a9c1a584″,"width":780},{"src":"https://i.guim.co.uk/img/media/d79514d0e6a6350a3b424686142c03d0446cfce5/0_109_3152_1892/master/3152.jpg?width=780&quality=45&auto=format&fit=max&dpr=2&s=09e7dce5cd256c187c4062fa214d9726″,"width":1560},{"src":"https://i.guim.co.uk/img/media/d79514d0e6a6350a3b424686142c03d0446cfce5/0_109_3152_1892/master/3152.jpg?width=620&quality=85&auto=format&fit=max&s=d3abf53eae65a0e275dd1e261d44d3a3″,"width":620},{"src":"https://i.guim.co.uk/img/media/d79514d0e6a6350a3b424686142c03d0446cfce5/0_109_3152_1892/master/3152.jpg?width=620&quality=45&auto=format&fit=max&dpr=2&s=f3d72c42def1859c669da7a09849319a","width":1240},{"src":"https://i.guim.co.uk/img/media/d79514d0e6a6350a3b424686142c03d0446cfce5/0_109_3152_1892/master/3152.jpg?width=605&quality=85&auto=format&fit=max&s=d0a897bc93a7896472c111eea0c2728a","width":605},{"src":"https://i.guim.co.uk/img/media/d79514d0e6a6350a3b424686142c03d0446cfce5/0_109_3152_1892/master/3152.jpg?width=605&quality=45&auto=format&fit=max&dpr=2&s=4c8437f5a7df1786769eaf5337084b9f","width":1210},{"src":"https://i.guim.co.uk/img/media/d79514d0e6a6350a3b424686142c03d0446cfce5/0_109_3152_1892/master/3152.jpg?width=445&quality=85&auto=format&fit=max&s=5d5aa974dcc70f7248c47bd188b51a42″,"width":445},{"src":"https://i.guim.co.uk/img/media/d79514d0e6a6350a3b424686142c03d0446cfce5/0_109_3152_1892/master/3152.jpg?width=445&quality=45&auto=format&fit=max&dpr=2&s=046ba4e5c3a04761aeddfcd0bb350c5c","width":890}]},{"weighting":"halfwidth","srcSet":[{"src":"https://i.guim.co.uk/img/media/d79514d0e6a6350a3b424686142c03d0446cfce5/0_109_3152_1892/master/3152.jpg?width=620&quality=85&auto=format&fit=max&s=d3abf53eae65a0e275dd1e261d44d3a3″,"width":620},{"src":"https://i.guim.co.uk/img/media/d79514d0e6a6350a3b424686142c03d0446cfce5/0_109_3152_1892/master/3152.jpg?width=620&quality=45&auto=format&fit=max&dpr=2&s=f3d72c42def1859c669da7a09849319a","width":1240},{"src":"https://i.guim.co.uk/img/media/d79514d0e6a6350a3b424686142c03d0446cfce5/0_109_3152_1892/master/3152.jpg?width=605&quality=85&auto=format&fit=max&s=d0a897bc93a7896472c111eea0c2728a","width":605},{"src":"https://i.guim.co.uk/img/media/d79514d0e6a6350a3b424686142c03d0446cfce5/0_109_3152_1892/master/3152.jpg?width=605&quality=45&auto=format&fit=max&dpr=2&s=4c8437f5a7df1786769eaf5337084b9f","width":1210},{"src":"https://i.guim.co.uk/img/media/d79514d0e6a6350a3b424686142c03d0446cfce5/0_109_3152_1892/master/3152.jpg?width=445&quality=85&auto=format&fit=max&s=5d5aa974dcc70f7248c47bd188b51a42″,"width":445},{"src":"https://i.guim.co.uk/img/media/d79514d0e6a6350a3b424686142c03d0446cfce5/0_109_3152_1892/master/3152.jpg?width=445&quality=45&auto=format&fit=max&dpr=2&s=046ba4e5c3a04761aeddfcd0bb350c5c","width":890}]},{"weighting":"immersive","srcSet":[{"src":"https://i.guim.co.uk/img/media/d79514d0e6a6350a3b424686142c03d0446cfce5/0_109_3152_1892/master/3152.jpg?width=1900&quality=85&auto=format&fit=max&s=4a0baeb2a7f8e1096c4aee574e6704eb","width":1900},{"src":"https://i.guim.co.uk/img/media/d79514d0e6a6350a3b424686142c03d0446cfce5/0_109_3152_1892/master/3152.jpg?width=1900&quality=45&auto=format&fit=max&dpr=2&s=27e5c8041417f01c83fb90629799da15″,"width":3800},{"src":"https://i.guim.co.uk/img/media/d79514d0e6a6350a3b424686142c03d0446cfce5/0_109_3152_1892/master/3152.jpg?width=1300&quality=85&auto=format&fit=max&s=2322a00bbcb9c1324cccc3661af4413c","width":1300},{"src":"https://i.guim.co.uk/img/media/d79514d0e6a6350a3b424686142c03d0446cfce5/0_109_3152_1892/master/3152.jpg?width=1300&quality=45&auto=format&fit=max&dpr=2&s=4817af0a2d127cb39b3a6a9ec6b5d0c3″,"width":2600},{"src":"https://i.guim.co.uk/img/media/d79514d0e6a6350a3b424686142c03d0446cfce5/0_109_3152_1892/master/3152.jpg?width=1140&quality=85&auto=format&fit=max&s=279e48bb83e75b8e68e2041fe7dff80c","width":1140},{"src":"https://i.guim.co.uk/img/media/d79514d0e6a6350a3b424686142c03d0446cfce5/0_109_3152_1892/master/3152.jpg?width=1140&quality=45&auto=format&fit=max&dpr=2&s=05efb8a8513d696cec81bdabdf20a17c","width":2280},{"src":"https://i.guim.co.uk/img/media/d79514d0e6a6350a3b424686142c03d0446cfce5/0_109_3152_1892/master/3152.jpg?width=980&quality=85&auto=format&fit=max&s=e2993e93aa0b2ce703d00035f490ad6a","width":980},{"src":"https://i.guim.co.uk/img/media/d79514d0e6a6350a3b424686142c03d0446cfce5/0_109_3152_1892/master/3152.jpg?width=980&quality=45&auto=format&fit=max&dpr=2&s=a3888c106040bbe4e278638b5b277714″,"width":1960},{"src":"https://i.guim.co.uk/img/media/d79514d0e6a6350a3b424686142c03d0446cfce5/0_109_3152_1892/master/3152.jpg?width=740&quality=85&auto=format&fit=max&s=fcd7330d7a55ebefed0d43d2d7f8c394″,"width":740},{"src":"https://i.guim.co.uk/img/media/d79514d0e6a6350a3b424686142c03d0446cfce5/0_109_3152_1892/master/3152.jpg?width=740&quality=45&auto=format&fit=max&dpr=2&s=73546f7adcd6daa255f6682518b9d10d","width":1480},{"src":"https://i.guim.co.uk/img/media/d79514d0e6a6350a3b424686142c03d0446cfce5/0_109_3152_1892/master/3152.jpg?width=660&quality=85&auto=format&fit=max&s=07b4837d5b3e986c714cab5dabca998c","width":660},{"src":"https://i.guim.co.uk/img/media/d79514d0e6a6350a3b424686142c03d0446cfce5/0_109_3152_1892/master/3152.jpg?width=660&quality=45&auto=format&fit=max&dpr=2&s=41e9110f23a0d1b5a85f50ce4bfaaf37″,"width":1320},{"src":"https://i.guim.co.uk/img/media/d79514d0e6a6350a3b424686142c03d0446cfce5/0_109_3152_1892/master/3152.jpg?width=480&quality=85&auto=format&fit=max&s=1480ae67d846c3de5d42e9f2fa54a4e2″,"width":480},{"src":"https://i.guim.co.uk/img/media/d79514d0e6a6350a3b424686142c03d0446cfce5/0_109_3152_1892/master/3152.jpg?width=480&quality=45&auto=format&fit=max&dpr=2&s=aa95aa25629c5e9d57ce429f56c4ef19″,"width":960}]}],"elementId":"020aaece-a460-43c9-aa9b-320a25977573″}],"attributes":{"pinned":false,"keyEvent":true,"abstract":false},"blockCreatedOn":1665429554000,"blockCreatedOnDisplay":"15.19 EDT","blockLastUpdated":1665430368000,"blockLastUpdatedShow":"15.32 EDT","blockFirstRevealed":1665429740000,"blockFirstPublishedDisplay":"15.22 EDT","blockFirstPublishedDisplayNoTimezone":"15.22″,"identify":"GOAL! Nottingham Forest 1-1 Aston Villa (Young, 22)","individuals":[],"primaryDateLine":"Mon 10 Oct 2022 15.51 EDT","secondaryDateLine":"First revealed on Mon 10 Oct 2022 14.00 EDT"},{"identity":"63446f188f08e0a590ae1e8c","parts":[{"_type":"model.dotcomrendering.pageElements.TextBlockElement","html":"

Gibbs-White swings in the free-kick from the right onto the head of Dennis who is left unmarked and nods home from seven yards out. Huge moment for Forest but they have given up leads before.

","elementId":"37581fc8-31a9-4e1d-8d4b-8ecd15e3bc24″},{"_type":"model.dotcomrendering.pageElements.ImageBlockElement","media":{"allImages":[{"index":0,"fields":{"height":"1819″,"width":"3030″},"mediaType":"Image","mimeType":"image/jpeg","url":"https://media.guim.co.uk/6872040ff442181c69fda5333504d7e8991fe6f9/358_310_3030_1819/3030.jpg"},{"index":1,"fields":{"isMaster":"true","height":"1819″,"width":"3030″},"mediaType":"Image","mimeType":"image/jpeg","url":"https://media.guim.co.uk/6872040ff442181c69fda5333504d7e8991fe6f9/358_310_3030_1819/master/3030.jpg"},{"index":2,"fields":{"height":"1200″,"width":"2000″},"mediaType":"Image","mimeType":"image/jpeg","url":"https://media.guim.co.uk/6872040ff442181c69fda5333504d7e8991fe6f9/358_310_3030_1819/2000.jpg"},{"index":3,"fields":{"height":"600″,"width":"1000″},"mediaType":"Image","mimeType":"image/jpeg","url":"https://media.guim.co.uk/6872040ff442181c69fda5333504d7e8991fe6f9/358_310_3030_1819/1000.jpg"},{"index":4,"fields":{"height":"300″,"width":"500″},"mediaType":"Image","mimeType":"image/jpeg","url":"https://media.guim.co.uk/6872040ff442181c69fda5333504d7e8991fe6f9/358_310_3030_1819/500.jpg"},{"index":5,"fields":{"height":"84″,"width":"140″},"mediaType":"Image","mimeType":"image/jpeg","url":"https://media.guim.co.uk/6872040ff442181c69fda5333504d7e8991fe6f9/358_310_3030_1819/140.jpg"}]},"information":{"alt":"Nottingham Forest's Emmanuel Dennis (right) heads home to open the scoring in their Premier League game against Aston Villa.","caption":"Nottingham Forest's Emmanuel Dennis (correct) will get his head to the ball …","credit score":"Photograph: Mike Egerton/PA"},"displayCredit":true,"position":"inline","imageSources":[{"weighting":"inline","srcSet":[{"src":"https://i.guim.co.uk/img/media/6872040ff442181c69fda5333504d7e8991fe6f9/358_310_3030_1819/master/3030.jpg?width=620&quality=85&auto=format&fit=max&s=c4796ab375dcfaa903c7bb6bb11c95f5″,"width":620},{"src":"https://i.guim.co.uk/img/media/6872040ff442181c69fda5333504d7e8991fe6f9/358_310_3030_1819/master/3030.jpg?width=620&quality=45&auto=format&fit=max&dpr=2&s=ad87121395ca3782fe078aa271b84aaf","width":1240},{"src":"https://i.guim.co.uk/img/media/6872040ff442181c69fda5333504d7e8991fe6f9/358_310_3030_1819/master/3030.jpg?width=605&quality=85&auto=format&fit=max&s=ab9faedacfcdcd45c9b2008ad7d9c339″,"width":605},{"src":"https://i.guim.co.uk/img/media/6872040ff442181c69fda5333504d7e8991fe6f9/358_310_3030_1819/master/3030.jpg?width=605&quality=45&auto=format&fit=max&dpr=2&s=00abe00bca5b74773157bb58db7ab50a","width":1210},{"src":"https://i.guim.co.uk/img/media/6872040ff442181c69fda5333504d7e8991fe6f9/358_310_3030_1819/master/3030.jpg?width=445&quality=85&auto=format&fit=max&s=7f5c61ddfcedde7527d2321666eaacdf","width":445},{"src":"https://i.guim.co.uk/img/media/6872040ff442181c69fda5333504d7e8991fe6f9/358_310_3030_1819/master/3030.jpg?width=445&quality=45&auto=format&fit=max&dpr=2&s=e58cde5df1056749c41c8e7ea9e96e3b","width":890}]},{"weighting":"thumbnail","srcSet":[{"src":"https://i.guim.co.uk/img/media/6872040ff442181c69fda5333504d7e8991fe6f9/358_310_3030_1819/master/3030.jpg?width=140&quality=85&auto=format&fit=max&s=d5d7ad394528b6a0ba09d2ad4bd8de26″,"width":140},{"src":"https://i.guim.co.uk/img/media/6872040ff442181c69fda5333504d7e8991fe6f9/358_310_3030_1819/master/3030.jpg?width=140&quality=45&auto=format&fit=max&dpr=2&s=43dfa4d9e3658fe20ce4a8a3244b72d6″,"width":280},{"src":"https://i.guim.co.uk/img/media/6872040ff442181c69fda5333504d7e8991fe6f9/358_310_3030_1819/master/3030.jpg?width=120&quality=85&auto=format&fit=max&s=7b52cbecf762b8480de3ee042011cdb3″,"width":120},{"src":"https://i.guim.co.uk/img/media/6872040ff442181c69fda5333504d7e8991fe6f9/358_310_3030_1819/master/3030.jpg?width=120&quality=45&auto=format&fit=max&dpr=2&s=99ba170cc006685c5c6f91b2bf20b7a2″,"width":240}]},{"weighting":"supporting","srcSet":[{"src":"https://i.guim.co.uk/img/media/6872040ff442181c69fda5333504d7e8991fe6f9/358_310_3030_1819/master/3030.jpg?width=380&quality=85&auto=format&fit=max&s=6fcf5db43c12d300b2e102dbde08dcdb","width":380},{"src":"https://i.guim.co.uk/img/media/6872040ff442181c69fda5333504d7e8991fe6f9/358_310_3030_1819/master/3030.jpg?width=380&quality=45&auto=format&fit=max&dpr=2&s=47331973c2c27a570c0a6af200be0913″,"width":760},{"src":"https://i.guim.co.uk/img/media/6872040ff442181c69fda5333504d7e8991fe6f9/358_310_3030_1819/master/3030.jpg?width=300&quality=85&auto=format&fit=max&s=3099b621149e562df75b17e4bfee8ac8″,"width":300},{"src":"https://i.guim.co.uk/img/media/6872040ff442181c69fda5333504d7e8991fe6f9/358_310_3030_1819/master/3030.jpg?width=300&quality=45&auto=format&fit=max&dpr=2&s=68834c1e9cea2ad946b1c122c62972e3″,"width":600},{"src":"https://i.guim.co.uk/img/media/6872040ff442181c69fda5333504d7e8991fe6f9/358_310_3030_1819/master/3030.jpg?width=620&quality=85&auto=format&fit=max&s=c4796ab375dcfaa903c7bb6bb11c95f5″,"width":620},{"src":"https://i.guim.co.uk/img/media/6872040ff442181c69fda5333504d7e8991fe6f9/358_310_3030_1819/master/3030.jpg?width=620&quality=45&auto=format&fit=max&dpr=2&s=ad87121395ca3782fe078aa271b84aaf","width":1240},{"src":"https://i.guim.co.uk/img/media/6872040ff442181c69fda5333504d7e8991fe6f9/358_310_3030_1819/master/3030.jpg?width=605&quality=85&auto=format&fit=max&s=ab9faedacfcdcd45c9b2008ad7d9c339″,"width":605},{"src":"https://i.guim.co.uk/img/media/6872040ff442181c69fda5333504d7e8991fe6f9/358_310_3030_1819/master/3030.jpg?width=605&quality=45&auto=format&fit=max&dpr=2&s=00abe00bca5b74773157bb58db7ab50a","width":1210},{"src":"https://i.guim.co.uk/img/media/6872040ff442181c69fda5333504d7e8991fe6f9/358_310_3030_1819/master/3030.jpg?width=445&quality=85&auto=format&fit=max&s=7f5c61ddfcedde7527d2321666eaacdf","width":445},{"src":"https://i.guim.co.uk/img/media/6872040ff442181c69fda5333504d7e8991fe6f9/358_310_3030_1819/master/3030.jpg?width=445&quality=45&auto=format&fit=max&dpr=2&s=e58cde5df1056749c41c8e7ea9e96e3b","width":890}]},{"weighting":"show off","srcSet":[{"src":"https://i.guim.co.uk/img/media/6872040ff442181c69fda5333504d7e8991fe6f9/358_310_3030_1819/master/3030.jpg?width=860&quality=85&auto=format&fit=max&s=f3759fafaed03af76df7d7c3affc3bfe","width":860},{"src":"https://i.guim.co.uk/img/media/6872040ff442181c69fda5333504d7e8991fe6f9/358_310_3030_1819/master/3030.jpg?width=860&quality=45&auto=format&fit=max&dpr=2&s=837adbe1fb33790c0022bd3179a8201b","width":1720},{"src":"https://i.guim.co.uk/img/media/6872040ff442181c69fda5333504d7e8991fe6f9/358_310_3030_1819/master/3030.jpg?width=780&quality=85&auto=format&fit=max&s=5e3fd8c418a3f971c08ba535fe30a29e","width":780},{"src":"https://i.guim.co.uk/img/media/6872040ff442181c69fda5333504d7e8991fe6f9/358_310_3030_1819/master/3030.jpg?width=780&quality=45&auto=format&fit=max&dpr=2&s=f2b9053e763034967103f540be53627b","width":1560},{"src":"https://i.guim.co.uk/img/media/6872040ff442181c69fda5333504d7e8991fe6f9/358_310_3030_1819/master/3030.jpg?width=620&quality=85&auto=format&fit=max&s=c4796ab375dcfaa903c7bb6bb11c95f5″,"width":620},{"src":"https://i.guim.co.uk/img/media/6872040ff442181c69fda5333504d7e8991fe6f9/358_310_3030_1819/master/3030.jpg?width=620&quality=45&auto=format&fit=max&dpr=2&s=ad87121395ca3782fe078aa271b84aaf","width":1240},{"src":"https://i.guim.co.uk/img/media/6872040ff442181c69fda5333504d7e8991fe6f9/358_310_3030_1819/master/3030.jpg?width=605&quality=85&auto=format&fit=max&s=ab9faedacfcdcd45c9b2008ad7d9c339″,"width":605},{"src":"https://i.guim.co.uk/img/media/6872040ff442181c69fda5333504d7e8991fe6f9/358_310_3030_1819/master/3030.jpg?width=605&quality=45&auto=format&fit=max&dpr=2&s=00abe00bca5b74773157bb58db7ab50a","width":1210},{"src":"https://i.guim.co.uk/img/media/6872040ff442181c69fda5333504d7e8991fe6f9/358_310_3030_1819/master/3030.jpg?width=445&quality=85&auto=format&fit=max&s=7f5c61ddfcedde7527d2321666eaacdf","width":445},{"src":"https://i.guim.co.uk/img/media/6872040ff442181c69fda5333504d7e8991fe6f9/358_310_3030_1819/master/3030.jpg?width=445&quality=45&auto=format&fit=max&dpr=2&s=e58cde5df1056749c41c8e7ea9e96e3b","width":890}]},{"weighting":"halfwidth","srcSet":[{"src":"https://i.guim.co.uk/img/media/6872040ff442181c69fda5333504d7e8991fe6f9/358_310_3030_1819/master/3030.jpg?width=620&quality=85&auto=format&fit=max&s=c4796ab375dcfaa903c7bb6bb11c95f5″,"width":620},{"src":"https://i.guim.co.uk/img/media/6872040ff442181c69fda5333504d7e8991fe6f9/358_310_3030_1819/master/3030.jpg?width=620&quality=45&auto=format&fit=max&dpr=2&s=ad87121395ca3782fe078aa271b84aaf","width":1240},{"src":"https://i.guim.co.uk/img/media/6872040ff442181c69fda5333504d7e8991fe6f9/358_310_3030_1819/master/3030.jpg?width=605&quality=85&auto=format&fit=max&s=ab9faedacfcdcd45c9b2008ad7d9c339″,"width":605},{"src":"https://i.guim.co.uk/img/media/6872040ff442181c69fda5333504d7e8991fe6f9/358_310_3030_1819/master/3030.jpg?width=605&quality=45&auto=format&fit=max&dpr=2&s=00abe00bca5b74773157bb58db7ab50a","width":1210},{"src":"https://i.guim.co.uk/img/media/6872040ff442181c69fda5333504d7e8991fe6f9/358_310_3030_1819/master/3030.jpg?width=445&quality=85&auto=format&fit=max&s=7f5c61ddfcedde7527d2321666eaacdf","width":445},{"src":"https://i.guim.co.uk/img/media/6872040ff442181c69fda5333504d7e8991fe6f9/358_310_3030_1819/master/3030.jpg?width=445&quality=45&auto=format&fit=max&dpr=2&s=e58cde5df1056749c41c8e7ea9e96e3b","width":890}]},{"weighting":"immersive","srcSet":[{"src":"https://i.guim.co.uk/img/media/6872040ff442181c69fda5333504d7e8991fe6f9/358_310_3030_1819/master/3030.jpg?width=1900&quality=85&auto=format&fit=max&s=0c61a8864e74c0178317ed3bdd5a98ad","width":1900},{"src":"https://i.guim.co.uk/img/media/6872040ff442181c69fda5333504d7e8991fe6f9/358_310_3030_1819/master/3030.jpg?width=1900&quality=45&auto=format&fit=max&dpr=2&s=8072c37df91b4bdda1d97dfbd93162b5″,"width":3800},{"src":"https://i.guim.co.uk/img/media/6872040ff442181c69fda5333504d7e8991fe6f9/358_310_3030_1819/master/3030.jpg?width=1300&quality=85&auto=format&fit=max&s=a7c0d4f080f13b5306fa9346b2259936″,"width":1300},{"src":"https://i.guim.co.uk/img/media/6872040ff442181c69fda5333504d7e8991fe6f9/358_310_3030_1819/master/3030.jpg?width=1300&quality=45&auto=format&fit=max&dpr=2&s=f55299f1b105e913e6f1a88fbe6ee650″,"width":2600},{"src":"https://i.guim.co.uk/img/media/6872040ff442181c69fda5333504d7e8991fe6f9/358_310_3030_1819/master/3030.jpg?width=1140&quality=85&auto=format&fit=max&s=64c61c8cf35781d4159265f9a0285f54″,"width":1140},{"src":"https://i.guim.co.uk/img/media/6872040ff442181c69fda5333504d7e8991fe6f9/358_310_3030_1819/master/3030.jpg?width=1140&quality=45&auto=format&fit=max&dpr=2&s=caa3af09162934e2fd2c19e47003924d","width":2280},{"src":"https://i.guim.co.uk/img/media/6872040ff442181c69fda5333504d7e8991fe6f9/358_310_3030_1819/master/3030.jpg?width=980&quality=85&auto=format&fit=max&s=b298c4c380b7dc94d93e072c047a0f79″,"width":980},{"src":"https://i.guim.co.uk/img/media/6872040ff442181c69fda5333504d7e8991fe6f9/358_310_3030_1819/master/3030.jpg?width=980&quality=45&auto=format&fit=max&dpr=2&s=c192076f8fedfc601f0be06921d10078″,"width":1960},{"src":"https://i.guim.co.uk/img/media/6872040ff442181c69fda5333504d7e8991fe6f9/358_310_3030_1819/master/3030.jpg?width=740&quality=85&auto=format&fit=max&s=e7eb47c28b1a437877838e7f8c62c6b3″,"width":740},{"src":"https://i.guim.co.uk/img/media/6872040ff442181c69fda5333504d7e8991fe6f9/358_310_3030_1819/master/3030.jpg?width=740&quality=45&auto=format&fit=max&dpr=2&s=1e3a02cd7207dfb0c60d5d8474679bd1″,"width":1480},{"src":"https://i.guim.co.uk/img/media/6872040ff442181c69fda5333504d7e8991fe6f9/358_310_3030_1819/master/3030.jpg?width=660&quality=85&auto=format&fit=max&s=5693f6314d197f0aeffd5c94e97e6a6c","width":660},{"src":"https://i.guim.co.uk/img/media/6872040ff442181c69fda5333504d7e8991fe6f9/358_310_3030_1819/master/3030.jpg?width=660&quality=45&auto=format&fit=max&dpr=2&s=739bb7abeb6309ee8005ad94c6f23b4f","width":1320},{"src":"https://i.guim.co.uk/img/media/6872040ff442181c69fda5333504d7e8991fe6f9/358_310_3030_1819/master/3030.jpg?width=480&quality=85&auto=format&fit=max&s=c4703e20f77cbe6fb880dedbac6122ef","width":480},{"src":"https://i.guim.co.uk/img/media/6872040ff442181c69fda5333504d7e8991fe6f9/358_310_3030_1819/master/3030.jpg?width=480&quality=45&auto=format&fit=max&dpr=2&s=728c1a519fb36fb6baf882bb9eb34efa","width":960}]}],"elementId":"6850c2e4-349c-4526-ab1d-42fec545348e"},{"_type":"model.dotcomrendering.pageElements.ImageBlockElement","media":{"allImages":[{"index":0,"fields":{"height":"1969″,"width":"3500″},"mediaType":"Image","mimeType":"image/jpeg","url":"https://media.guim.co.uk/315dd5994a3ae8396d4aef91fcceeede95391336/0_0_3500_1969/3500.jpg"},{"index":1,"fields":{"isMaster":"true","height":"1969″,"width":"3500″},"mediaType":"Image","mimeType":"image/jpeg","url":"https://media.guim.co.uk/315dd5994a3ae8396d4aef91fcceeede95391336/0_0_3500_1969/master/3500.jpg"},{"index":2,"fields":{"height":"1125″,"width":"2000″},"mediaType":"Image","mimeType":"image/jpeg","url":"https://media.guim.co.uk/315dd5994a3ae8396d4aef91fcceeede95391336/0_0_3500_1969/2000.jpg"},{"index":3,"fields":{"height":"563″,"width":"1000″},"mediaType":"Image","mimeType":"image/jpeg","url":"https://media.guim.co.uk/315dd5994a3ae8396d4aef91fcceeede95391336/0_0_3500_1969/1000.jpg"},{"index":4,"fields":{"height":"281″,"width":"500″},"mediaType":"Image","mimeType":"image/jpeg","url":"https://media.guim.co.uk/315dd5994a3ae8396d4aef91fcceeede95391336/0_0_3500_1969/500.jpg"},{"index":5,"fields":{"height":"79″,"width":"140″},"mediaType":"Image","mimeType":"image/jpeg","url":"https://media.guim.co.uk/315dd5994a3ae8396d4aef91fcceeede95391336/0_0_3500_1969/140.jpg"}]},"information":{"alt":"Nottingham Forest's Emmanuel Dennis heads home to open the scoring in their Premier League game against Aston Villa.","caption":"And the house facet have the lead.","credit score":"Photograph: Peter Powell/Reuters"},"displayCredit":true,"position":"inline","imageSources":[{"weighting":"inline","srcSet":[{"src":"https://i.guim.co.uk/img/media/315dd5994a3ae8396d4aef91fcceeede95391336/0_0_3500_1969/master/3500.jpg?width=620&quality=85&auto=format&fit=max&s=4adf57af024fbc6d48e20b2688f1abef","width":620},{"src":"https://i.guim.co.uk/img/media/315dd5994a3ae8396d4aef91fcceeede95391336/0_0_3500_1969/master/3500.jpg?width=620&quality=45&auto=format&fit=max&dpr=2&s=13f5320f39d11bee07054fbf7954a5bc","width":1240},{"src":"https://i.guim.co.uk/img/media/315dd5994a3ae8396d4aef91fcceeede95391336/0_0_3500_1969/master/3500.jpg?width=605&quality=85&auto=format&fit=max&s=23ff0a6255bdc9db84b172ca60729136″,"width":605},{"src":"https://i.guim.co.uk/img/media/315dd5994a3ae8396d4aef91fcceeede95391336/0_0_3500_1969/master/3500.jpg?width=605&quality=45&auto=format&fit=max&dpr=2&s=8c855c4b07f375cdfdf68ff97cd804a7″,"width":1210},{"src":"https://i.guim.co.uk/img/media/315dd5994a3ae8396d4aef91fcceeede95391336/0_0_3500_1969/master/3500.jpg?width=445&quality=85&auto=format&fit=max&s=b7fb4590fc48cca6972eee4962f4bb62″,"width":445},{"src":"https://i.guim.co.uk/img/media/315dd5994a3ae8396d4aef91fcceeede95391336/0_0_3500_1969/master/3500.jpg?width=445&quality=45&auto=format&fit=max&dpr=2&s=b5a61b14d6aabdb1e74e2560389fd73c","width":890}]},{"weighting":"thumbnail","srcSet":[{"src":"https://i.guim.co.uk/img/media/315dd5994a3ae8396d4aef91fcceeede95391336/0_0_3500_1969/master/3500.jpg?width=140&quality=85&auto=format&fit=max&s=176f569c734614bad695015816be8933″,"width":140},{"src":"https://i.guim.co.uk/img/media/315dd5994a3ae8396d4aef91fcceeede95391336/0_0_3500_1969/master/3500.jpg?width=140&quality=45&auto=format&fit=max&dpr=2&s=9a0e02b3624e61c0ae237600a502e50d","width":280},{"src":"https://i.guim.co.uk/img/media/315dd5994a3ae8396d4aef91fcceeede95391336/0_0_3500_1969/master/3500.jpg?width=120&quality=85&auto=format&fit=max&s=98f5c414ad7f69304270b3ddad354378″,"width":120},{"src":"https://i.guim.co.uk/img/media/315dd5994a3ae8396d4aef91fcceeede95391336/0_0_3500_1969/master/3500.jpg?width=120&quality=45&auto=format&fit=max&dpr=2&s=abb890c431bb9f8a19c964870f58e967″,"width":240}]},{"weighting":"supporting","srcSet":[{"src":"https://i.guim.co.uk/img/media/315dd5994a3ae8396d4aef91fcceeede95391336/0_0_3500_1969/master/3500.jpg?width=380&quality=85&auto=format&fit=max&s=f2af44c1be5865491adfec911ad343c9″,"width":380},{"src":"https://i.guim.co.uk/img/media/315dd5994a3ae8396d4aef91fcceeede95391336/0_0_3500_1969/master/3500.jpg?width=380&quality=45&auto=format&fit=max&dpr=2&s=9307e04f6db868c8868d1027df51f12b","width":760},{"src":"https://i.guim.co.uk/img/media/315dd5994a3ae8396d4aef91fcceeede95391336/0_0_3500_1969/master/3500.jpg?width=300&quality=85&auto=format&fit=max&s=6aad3e9c9158d827fc77e158c5a46f62″,"width":300},{"src":"https://i.guim.co.uk/img/media/315dd5994a3ae8396d4aef91fcceeede95391336/0_0_3500_1969/master/3500.jpg?width=300&quality=45&auto=format&fit=max&dpr=2&s=33d1bcc3ceec479b3bbecb6c45f45428″,"width":600},{"src":"https://i.guim.co.uk/img/media/315dd5994a3ae8396d4aef91fcceeede95391336/0_0_3500_1969/master/3500.jpg?width=620&quality=85&auto=format&fit=max&s=4adf57af024fbc6d48e20b2688f1abef","width":620},{"src":"https://i.guim.co.uk/img/media/315dd5994a3ae8396d4aef91fcceeede95391336/0_0_3500_1969/master/3500.jpg?width=620&quality=45&auto=format&fit=max&dpr=2&s=13f5320f39d11bee07054fbf7954a5bc","width":1240},{"src":"https://i.guim.co.uk/img/media/315dd5994a3ae8396d4aef91fcceeede95391336/0_0_3500_1969/master/3500.jpg?width=605&quality=85&auto=format&fit=max&s=23ff0a6255bdc9db84b172ca60729136″,"width":605},{"src":"https://i.guim.co.uk/img/media/315dd5994a3ae8396d4aef91fcceeede95391336/0_0_3500_1969/master/3500.jpg?width=605&quality=45&auto=format&fit=max&dpr=2&s=8c855c4b07f375cdfdf68ff97cd804a7″,"width":1210},{"src":"https://i.guim.co.uk/img/media/315dd5994a3ae8396d4aef91fcceeede95391336/0_0_3500_1969/master/3500.jpg?width=445&quality=85&auto=format&fit=max&s=b7fb4590fc48cca6972eee4962f4bb62″,"width":445},{"src":"https://i.guim.co.uk/img/media/315dd5994a3ae8396d4aef91fcceeede95391336/0_0_3500_1969/master/3500.jpg?width=445&quality=45&auto=format&fit=max&dpr=2&s=b5a61b14d6aabdb1e74e2560389fd73c","width":890}]},{"weighting":"show off","srcSet":[{"src":"https://i.guim.co.uk/img/media/315dd5994a3ae8396d4aef91fcceeede95391336/0_0_3500_1969/master/3500.jpg?width=860&quality=85&auto=format&fit=max&s=cc53fd195284b93b9570d91f3ad7dec0″,"width":860},{"src":"https://i.guim.co.uk/img/media/315dd5994a3ae8396d4aef91fcceeede95391336/0_0_3500_1969/master/3500.jpg?width=860&quality=45&auto=format&fit=max&dpr=2&s=e8bb7abf75fa7291b48b92b90dcbc6c7″,"width":1720},{"src":"https://i.guim.co.uk/img/media/315dd5994a3ae8396d4aef91fcceeede95391336/0_0_3500_1969/master/3500.jpg?width=780&quality=85&auto=format&fit=max&s=216594647b3660459d61df39334ee6d1″,"width":780},{"src":"https://i.guim.co.uk/img/media/315dd5994a3ae8396d4aef91fcceeede95391336/0_0_3500_1969/master/3500.jpg?width=780&quality=45&auto=format&fit=max&dpr=2&s=afcb6ff4b31e49c9171c126c6b1033ea","width":1560},{"src":"https://i.guim.co.uk/img/media/315dd5994a3ae8396d4aef91fcceeede95391336/0_0_3500_1969/master/3500.jpg?width=620&quality=85&auto=format&fit=max&s=4adf57af024fbc6d48e20b2688f1abef","width":620},{"src":"https://i.guim.co.uk/img/media/315dd5994a3ae8396d4aef91fcceeede95391336/0_0_3500_1969/master/3500.jpg?width=620&quality=45&auto=format&fit=max&dpr=2&s=13f5320f39d11bee07054fbf7954a5bc","width":1240},{"src":"https://i.guim.co.uk/img/media/315dd5994a3ae8396d4aef91fcceeede95391336/0_0_3500_1969/master/3500.jpg?width=605&quality=85&auto=format&fit=max&s=23ff0a6255bdc9db84b172ca60729136″,"width":605},{"src":"https://i.guim.co.uk/img/media/315dd5994a3ae8396d4aef91fcceeede95391336/0_0_3500_1969/master/3500.jpg?width=605&quality=45&auto=format&fit=max&dpr=2&s=8c855c4b07f375cdfdf68ff97cd804a7″,"width":1210},{"src":"https://i.guim.co.uk/img/media/315dd5994a3ae8396d4aef91fcceeede95391336/0_0_3500_1969/master/3500.jpg?width=445&quality=85&auto=format&fit=max&s=b7fb4590fc48cca6972eee4962f4bb62″,"width":445},{"src":"https://i.guim.co.uk/img/media/315dd5994a3ae8396d4aef91fcceeede95391336/0_0_3500_1969/master/3500.jpg?width=445&quality=45&auto=format&fit=max&dpr=2&s=b5a61b14d6aabdb1e74e2560389fd73c","width":890}]},{"weighting":"halfwidth","srcSet":[{"src":"https://i.guim.co.uk/img/media/315dd5994a3ae8396d4aef91fcceeede95391336/0_0_3500_1969/master/3500.jpg?width=620&quality=85&auto=format&fit=max&s=4adf57af024fbc6d48e20b2688f1abef","width":620},{"src":"https://i.guim.co.uk/img/media/315dd5994a3ae8396d4aef91fcceeede95391336/0_0_3500_1969/master/3500.jpg?width=620&quality=45&auto=format&fit=max&dpr=2&s=13f5320f39d11bee07054fbf7954a5bc","width":1240},{"src":"https://i.guim.co.uk/img/media/315dd5994a3ae8396d4aef91fcceeede95391336/0_0_3500_1969/master/3500.jpg?width=605&quality=85&auto=format&fit=max&s=23ff0a6255bdc9db84b172ca60729136″,"width":605},{"src":"https://i.guim.co.uk/img/media/315dd5994a3ae8396d4aef91fcceeede95391336/0_0_3500_1969/master/3500.jpg?width=605&quality=45&auto=format&fit=max&dpr=2&s=8c855c4b07f375cdfdf68ff97cd804a7″,"width":1210},{"src":"https://i.guim.co.uk/img/media/315dd5994a3ae8396d4aef91fcceeede95391336/0_0_3500_1969/master/3500.jpg?width=445&quality=85&auto=format&fit=max&s=b7fb4590fc48cca6972eee4962f4bb62″,"width":445},{"src":"https://i.guim.co.uk/img/media/315dd5994a3ae8396d4aef91fcceeede95391336/0_0_3500_1969/master/3500.jpg?width=445&quality=45&auto=format&fit=max&dpr=2&s=b5a61b14d6aabdb1e74e2560389fd73c","width":890}]},{"weighting":"immersive","srcSet":[{"src":"https://i.guim.co.uk/img/media/315dd5994a3ae8396d4aef91fcceeede95391336/0_0_3500_1969/master/3500.jpg?width=1900&quality=85&auto=format&fit=max&s=709f8aa92c066548c687d0e2dec68031″,"width":1900},{"src":"https://i.guim.co.uk/img/media/315dd5994a3ae8396d4aef91fcceeede95391336/0_0_3500_1969/master/3500.jpg?width=1900&quality=45&auto=format&fit=max&dpr=2&s=0feeccbd91b3be8371696c9651904c57″,"width":3800},{"src":"https://i.guim.co.uk/img/media/315dd5994a3ae8396d4aef91fcceeede95391336/0_0_3500_1969/master/3500.jpg?width=1300&quality=85&auto=format&fit=max&s=8e8fe796ffcbf8cccdf5ec05fb8595e8″,"width":1300},{"src":"https://i.guim.co.uk/img/media/315dd5994a3ae8396d4aef91fcceeede95391336/0_0_3500_1969/master/3500.jpg?width=1300&quality=45&auto=format&fit=max&dpr=2&s=7f9e1cf402c7e6f2dce155490d381537″,"width":2600},{"src":"https://i.guim.co.uk/img/media/315dd5994a3ae8396d4aef91fcceeede95391336/0_0_3500_1969/master/3500.jpg?width=1140&quality=85&auto=format&fit=max&s=e7a15fa0d59f0e13eb457b558bf9c319″,"width":1140},{"src":"https://i.guim.co.uk/img/media/315dd5994a3ae8396d4aef91fcceeede95391336/0_0_3500_1969/master/3500.jpg?width=1140&quality=45&auto=format&fit=max&dpr=2&s=683a8abea7d1be7777bfbffec0cca4fb","width":2280},{"src":"https://i.guim.co.uk/img/media/315dd5994a3ae8396d4aef91fcceeede95391336/0_0_3500_1969/master/3500.jpg?width=980&quality=85&auto=format&fit=max&s=8866a7fd841ff0763d31c72448ef89ac","width":980},{"src":"https://i.guim.co.uk/img/media/315dd5994a3ae8396d4aef91fcceeede95391336/0_0_3500_1969/master/3500.jpg?width=980&quality=45&auto=format&fit=max&dpr=2&s=287cbd592c6f29c3c1f8236fba610908″,"width":1960},{"src":"https://i.guim.co.uk/img/media/315dd5994a3ae8396d4aef91fcceeede95391336/0_0_3500_1969/master/3500.jpg?width=740&quality=85&auto=format&fit=max&s=8024c0c11b3d9b86d2adecc0fcaf7d2d","width":740},{"src":"https://i.guim.co.uk/img/media/315dd5994a3ae8396d4aef91fcceeede95391336/0_0_3500_1969/master/3500.jpg?width=740&quality=45&auto=format&fit=max&dpr=2&s=ca2156d8b3f319ed0d6d6e743d24710c","width":1480},{"src":"https://i.guim.co.uk/img/media/315dd5994a3ae8396d4aef91fcceeede95391336/0_0_3500_1969/master/3500.jpg?width=660&quality=85&auto=format&fit=max&s=67d5c9f41d2197b8be833e3be33fdb79″,"width":660},{"src":"https://i.guim.co.uk/img/media/315dd5994a3ae8396d4aef91fcceeede95391336/0_0_3500_1969/master/3500.jpg?width=660&quality=45&auto=format&fit=max&dpr=2&s=ff8e0fc855ef637b1f9f1ae0fc556022″,"width":1320},{"src":"https://i.guim.co.uk/img/media/315dd5994a3ae8396d4aef91fcceeede95391336/0_0_3500_1969/master/3500.jpg?width=480&quality=85&auto=format&fit=max&s=c42b5ed707de0eea84f728f10aeeca4f","width":480},{"src":"https://i.guim.co.uk/img/media/315dd5994a3ae8396d4aef91fcceeede95391336/0_0_3500_1969/master/3500.jpg?width=480&quality=45&auto=format&fit=max&dpr=2&s=9ac02812a4cc09c08091dee81d561624″,"width":960}]}],"elementId":"fdf888d1-9878-4734-bcee-ca3371f1c2d5″},{"_type":"model.dotcomrendering.pageElements.ImageBlockElement","media":{"allImages":[{"index":0,"fields":{"height":"1066″,"width":"1778″},"mediaType":"Image","mimeType":"image/jpeg","url":"https://media.guim.co.uk/88c90c964041fff45aa7c5109216c94411911b6c/0_7_1778_1066/1778.jpg"},{"index":1,"fields":{"isMaster":"true","height":"1066″,"width":"1778″},"mediaType":"Image","mimeType":"image/jpeg","url":"https://media.guim.co.uk/88c90c964041fff45aa7c5109216c94411911b6c/0_7_1778_1066/master/1778.jpg"},{"index":2,"fields":{"height":"600″,"width":"1000″},"mediaType":"Image","mimeType":"image/jpeg","url":"https://media.guim.co.uk/88c90c964041fff45aa7c5109216c94411911b6c/0_7_1778_1066/1000.jpg"},{"index":3,"fields":{"height":"300″,"width":"500″},"mediaType":"Image","mimeType":"image/jpeg","url":"https://media.guim.co.uk/88c90c964041fff45aa7c5109216c94411911b6c/0_7_1778_1066/500.jpg"},{"index":4,"fields":{"height":"84″,"width":"140″},"mediaType":"Image","mimeType":"image/jpeg","url":"https://media.guim.co.uk/88c90c964041fff45aa7c5109216c94411911b6c/0_7_1778_1066/140.jpg"}]},"information":{"alt":"Nottingham Forest's Emmanuel Dennis celebrates scoring their first goal with team-mates in front of the ecstatic Forest fans.","caption":"Dennis celebrates his function with team-mates in entrance of the ecstatic Forest enthusiasts.","credit score":"Photograph: Molly Darlington/Action Images/Reuters"},"displayCredit":true,"position":"inline","imageSources":[{"weighting":"inline","srcSet":[{"src":"https://i.guim.co.uk/img/media/88c90c964041fff45aa7c5109216c94411911b6c/0_7_1778_1066/master/1778.jpg?width=620&quality=85&auto=format&fit=max&s=07addeada1145ce494a7b954dff2266b","width":620},{"src":"https://i.guim.co.uk/img/media/88c90c964041fff45aa7c5109216c94411911b6c/0_7_1778_1066/master/1778.jpg?width=620&quality=45&auto=format&fit=max&dpr=2&s=942ed02da55594f5203a8498c19c2ea7″,"width":1240},{"src":"https://i.guim.co.uk/img/media/88c90c964041fff45aa7c5109216c94411911b6c/0_7_1778_1066/master/1778.jpg?width=605&quality=85&auto=format&fit=max&s=c9ee429bdb470aab0d27292df1ca3a5f","width":605},{"src":"https://i.guim.co.uk/img/media/88c90c964041fff45aa7c5109216c94411911b6c/0_7_1778_1066/master/1778.jpg?width=605&quality=45&auto=format&fit=max&dpr=2&s=75665b40730ffccfc29d021b8e481117″,"width":1210},{"src":"https://i.guim.co.uk/img/media/88c90c964041fff45aa7c5109216c94411911b6c/0_7_1778_1066/master/1778.jpg?width=445&quality=85&auto=format&fit=max&s=53dfac8a526eb094f02a96429f107f9e","width":445},{"src":"https://i.guim.co.uk/img/media/88c90c964041fff45aa7c5109216c94411911b6c/0_7_1778_1066/master/1778.jpg?width=445&quality=45&auto=format&fit=max&dpr=2&s=cc09119192589f4b3cd04d8ac9ce4052″,"width":890}]},{"weighting":"thumbnail","srcSet":[{"src":"https://i.guim.co.uk/img/media/88c90c964041fff45aa7c5109216c94411911b6c/0_7_1778_1066/master/1778.jpg?width=140&quality=85&auto=format&fit=max&s=8aee25c93bf6ed0ac08bcf3a72092a80″,"width":140},{"src":"https://i.guim.co.uk/img/media/88c90c964041fff45aa7c5109216c94411911b6c/0_7_1778_1066/master/1778.jpg?width=140&quality=45&auto=format&fit=max&dpr=2&s=c2671125ab4a33d020c74fd40a8f749d","width":280},{"src":"https://i.guim.co.uk/img/media/88c90c964041fff45aa7c5109216c94411911b6c/0_7_1778_1066/master/1778.jpg?width=120&quality=85&auto=format&fit=max&s=6e783edbba24e249b0de2c5c7dc02d80″,"width":120},{"src":"https://i.guim.co.uk/img/media/88c90c964041fff45aa7c5109216c94411911b6c/0_7_1778_1066/master/1778.jpg?width=120&quality=45&auto=format&fit=max&dpr=2&s=7648f1e44bf9b99d184a95ab475878bf","width":240}]},{"weighting":"supporting","srcSet":[{"src":"https://i.guim.co.uk/img/media/88c90c964041fff45aa7c5109216c94411911b6c/0_7_1778_1066/master/1778.jpg?width=380&quality=85&auto=format&fit=max&s=a341560b2617a983331273e3a2f67307″,"width":380},{"src":"https://i.guim.co.uk/img/media/88c90c964041fff45aa7c5109216c94411911b6c/0_7_1778_1066/master/1778.jpg?width=380&quality=45&auto=format&fit=max&dpr=2&s=50edfd41c12c03bc8096d7eb1287c3d0″,"width":760},{"src":"https://i.guim.co.uk/img/media/88c90c964041fff45aa7c5109216c94411911b6c/0_7_1778_1066/master/1778.jpg?width=300&quality=85&auto=format&fit=max&s=fe9c328c7e1a450300e255aa7fbb547d","width":300},{"src":"https://i.guim.co.uk/img/media/88c90c964041fff45aa7c5109216c94411911b6c/0_7_1778_1066/master/1778.jpg?width=300&quality=45&auto=format&fit=max&dpr=2&s=cc069d49639fe958f512b2ef52f76ec3″,"width":600},{"src":"https://i.guim.co.uk/img/media/88c90c964041fff45aa7c5109216c94411911b6c/0_7_1778_1066/master/1778.jpg?width=620&quality=85&auto=format&fit=max&s=07addeada1145ce494a7b954dff2266b","width":620},{"src":"https://i.guim.co.uk/img/media/88c90c964041fff45aa7c5109216c94411911b6c/0_7_1778_1066/master/1778.jpg?width=620&quality=45&auto=format&fit=max&dpr=2&s=942ed02da55594f5203a8498c19c2ea7″,"width":1240},{"src":"https://i.guim.co.uk/img/media/88c90c964041fff45aa7c5109216c94411911b6c/0_7_1778_1066/master/1778.jpg?width=605&quality=85&auto=format&fit=max&s=c9ee429bdb470aab0d27292df1ca3a5f","width":605},{"src":"https://i.guim.co.uk/img/media/88c90c964041fff45aa7c5109216c94411911b6c/0_7_1778_1066/master/1778.jpg?width=605&quality=45&auto=format&fit=max&dpr=2&s=75665b40730ffccfc29d021b8e481117″,"width":1210},{"src":"https://i.guim.co.uk/img/media/88c90c964041fff45aa7c5109216c94411911b6c/0_7_1778_1066/master/1778.jpg?width=445&quality=85&auto=format&fit=max&s=53dfac8a526eb094f02a96429f107f9e","width":445},{"src":"https://i.guim.co.uk/img/media/88c90c964041fff45aa7c5109216c94411911b6c/0_7_1778_1066/master/1778.jpg?width=445&quality=45&auto=format&fit=max&dpr=2&s=cc09119192589f4b3cd04d8ac9ce4052″,"width":890}]},{"weighting":"show off","srcSet":[{"src":"https://i.guim.co.uk/img/media/88c90c964041fff45aa7c5109216c94411911b6c/0_7_1778_1066/master/1778.jpg?width=860&quality=85&auto=format&fit=max&s=388ecf4a968d0139e414807fda1e4424″,"width":860},{"src":"https://i.guim.co.uk/img/media/88c90c964041fff45aa7c5109216c94411911b6c/0_7_1778_1066/master/1778.jpg?width=860&quality=45&auto=format&fit=max&dpr=2&s=970d92f83c7d8d0e6a646fc26c31c9d5″,"width":1720},{"src":"https://i.guim.co.uk/img/media/88c90c964041fff45aa7c5109216c94411911b6c/0_7_1778_1066/master/1778.jpg?width=780&quality=85&auto=format&fit=max&s=51b0f16c2da6116df1fe87dea22c8fb3″,"width":780},{"src":"https://i.guim.co.uk/img/media/88c90c964041fff45aa7c5109216c94411911b6c/0_7_1778_1066/master/1778.jpg?width=780&quality=45&auto=format&fit=max&dpr=2&s=9edc483e7e9a21b55ab26e717296dd91″,"width":1560},{"src":"https://i.guim.co.uk/img/media/88c90c964041fff45aa7c5109216c94411911b6c/0_7_1778_1066/master/1778.jpg?width=620&quality=85&auto=format&fit=max&s=07addeada1145ce494a7b954dff2266b","width":620},{"src":"https://i.guim.co.uk/img/media/88c90c964041fff45aa7c5109216c94411911b6c/0_7_1778_1066/master/1778.jpg?width=620&quality=45&auto=format&fit=max&dpr=2&s=942ed02da55594f5203a8498c19c2ea7″,"width":1240},{"src":"https://i.guim.co.uk/img/media/88c90c964041fff45aa7c5109216c94411911b6c/0_7_1778_1066/master/1778.jpg?width=605&quality=85&auto=format&fit=max&s=c9ee429bdb470aab0d27292df1ca3a5f","width":605},{"src":"https://i.guim.co.uk/img/media/88c90c964041fff45aa7c5109216c94411911b6c/0_7_1778_1066/master/1778.jpg?width=605&quality=45&auto=format&fit=max&dpr=2&s=75665b40730ffccfc29d021b8e481117″,"width":1210},{"src":"https://i.guim.co.uk/img/media/88c90c964041fff45aa7c5109216c94411911b6c/0_7_1778_1066/master/1778.jpg?width=445&quality=85&auto=format&fit=max&s=53dfac8a526eb094f02a96429f107f9e","width":445},{"src":"https://i.guim.co.uk/img/media/88c90c964041fff45aa7c5109216c94411911b6c/0_7_1778_1066/master/1778.jpg?width=445&quality=45&auto=format&fit=max&dpr=2&s=cc09119192589f4b3cd04d8ac9ce4052″,"width":890}]},{"weighting":"halfwidth","srcSet":[{"src":"https://i.guim.co.uk/img/media/88c90c964041fff45aa7c5109216c94411911b6c/0_7_1778_1066/master/1778.jpg?width=620&quality=85&auto=format&fit=max&s=07addeada1145ce494a7b954dff2266b","width":620},{"src":"https://i.guim.co.uk/img/media/88c90c964041fff45aa7c5109216c94411911b6c/0_7_1778_1066/master/1778.jpg?width=620&quality=45&auto=format&fit=max&dpr=2&s=942ed02da55594f5203a8498c19c2ea7″,"width":1240},{"src":"https://i.guim.co.uk/img/media/88c90c964041fff45aa7c5109216c94411911b6c/0_7_1778_1066/master/1778.jpg?width=605&quality=85&auto=format&fit=max&s=c9ee429bdb470aab0d27292df1ca3a5f","width":605},{"src":"https://i.guim.co.uk/img/media/88c90c964041fff45aa7c5109216c94411911b6c/0_7_1778_1066/master/1778.jpg?width=605&quality=45&auto=format&fit=max&dpr=2&s=75665b40730ffccfc29d021b8e481117″,"width":1210},{"src":"https://i.guim.co.uk/img/media/88c90c964041fff45aa7c5109216c94411911b6c/0_7_1778_1066/master/1778.jpg?width=445&quality=85&auto=format&fit=max&s=53dfac8a526eb094f02a96429f107f9e","width":445},{"src":"https://i.guim.co.uk/img/media/88c90c964041fff45aa7c5109216c94411911b6c/0_7_1778_1066/master/1778.jpg?width=445&quality=45&auto=format&fit=max&dpr=2&s=cc09119192589f4b3cd04d8ac9ce4052″,"width":890}]},{"weighting":"immersive","srcSet":[{"src":"https://i.guim.co.uk/img/media/88c90c964041fff45aa7c5109216c94411911b6c/0_7_1778_1066/master/1778.jpg?width=1900&quality=85&auto=format&fit=max&s=9144f9128517e534af41e9ee3941a8e9″,"width":1900},{"src":"https://i.guim.co.uk/img/media/88c90c964041fff45aa7c5109216c94411911b6c/0_7_1778_1066/master/1778.jpg?width=1900&quality=45&auto=format&fit=max&dpr=2&s=9b1cf44901d53bf53006677a5864f1ec","width":3800},{"src":"https://i.guim.co.uk/img/media/88c90c964041fff45aa7c5109216c94411911b6c/0_7_1778_1066/master/1778.jpg?width=1300&quality=85&auto=format&fit=max&s=9bd040910bcd72211f0ce642b5c830d9″,"width":1300},{"src":"https://i.guim.co.uk/img/media/88c90c964041fff45aa7c5109216c94411911b6c/0_7_1778_1066/master/1778.jpg?width=1300&quality=45&auto=format&fit=max&dpr=2&s=606329f58d8587b47cf3b950cd4b9f36″,"width":2600},{"src":"https://i.guim.co.uk/img/media/88c90c964041fff45aa7c5109216c94411911b6c/0_7_1778_1066/master/1778.jpg?width=1140&quality=85&auto=format&fit=max&s=9a3701c6ca6315b87845c9d57becfb7f","width":1140},{"src":"https://i.guim.co.uk/img/media/88c90c964041fff45aa7c5109216c94411911b6c/0_7_1778_1066/master/1778.jpg?width=1140&quality=45&auto=format&fit=max&dpr=2&s=63d19d19b0eb14c1c80947188fe26967″,"width":2280},{"src":"https://i.guim.co.uk/img/media/88c90c964041fff45aa7c5109216c94411911b6c/0_7_1778_1066/master/1778.jpg?width=980&quality=85&auto=format&fit=max&s=de552aca2063e795dbedf714a497bce8″,"width":980},{"src":"https://i.guim.co.uk/img/media/88c90c964041fff45aa7c5109216c94411911b6c/0_7_1778_1066/master/1778.jpg?width=980&quality=45&auto=format&fit=max&dpr=2&s=85b0e5a122160e2f54bd69d7d3be495c","width":1960},{"src":"https://i.guim.co.uk/img/media/88c90c964041fff45aa7c5109216c94411911b6c/0_7_1778_1066/master/1778.jpg?width=740&quality=85&auto=format&fit=max&s=2edb27a8cff272889e7e1a690c6bcee1″,"width":740},{"src":"https://i.guim.co.uk/img/media/88c90c964041fff45aa7c5109216c94411911b6c/0_7_1778_1066/master/1778.jpg?width=740&quality=45&auto=format&fit=max&dpr=2&s=fef02b0dda57169c4a6727ca113c2b43″,"width":1480},{"src":"https://i.guim.co.uk/img/media/88c90c964041fff45aa7c5109216c94411911b6c/0_7_1778_1066/master/1778.jpg?width=660&quality=85&auto=format&fit=max&s=ea83da0011b8dde4f59c576401451f45″,"width":660},{"src":"https://i.guim.co.uk/img/media/88c90c964041fff45aa7c5109216c94411911b6c/0_7_1778_1066/master/1778.jpg?width=660&quality=45&auto=format&fit=max&dpr=2&s=2c61070ebcf2870d208ddaf036887003″,"width":1320},{"src":"https://i.guim.co.uk/img/media/88c90c964041fff45aa7c5109216c94411911b6c/0_7_1778_1066/master/1778.jpg?width=480&quality=85&auto=format&fit=max&s=67342c19b3c9fa2990aa5ddf74b562a8″,"width":480},{"src":"https://i.guim.co.uk/img/media/88c90c964041fff45aa7c5109216c94411911b6c/0_7_1778_1066/master/1778.jpg?width=480&quality=45&auto=format&fit=max&dpr=2&s=d22aa407baba687409d9737bf23a10e2″,"width":960}]}],"elementId":"50fcc20d-3dd8-4589-a06d-3fc2b1ca6b9d"}],"attributes":{"pinned":false,"keyEvent":true,"abstract":false},"blockCreatedOn":1665429272000,"blockCreatedOnDisplay":"15.14 EDT","blockLastUpdated":1665430162000,"blockLastUpdatedShow":"15.29 EDT","blockFirstRevealed":1665429356000,"blockFirstPublishedDisplay":"15.15 EDT","blockFirstPublishedDisplayNoTimezone":"15.15″,"identify":"GOAL! Nottingham Forest 1-0 Aston Villa (Dennis, 15)","individuals":[],"primaryDateLine":"Mon 10 Oct 2022 15.51 EDT","secondaryDateLine":"First revealed on Mon 10 Oct 2022 14.00 EDT"},{"identity":"63446b3f8f083d981ab0e0d0″,"parts":[{"_type":"model.dotcomrendering.pageElements.TextBlockElement","html":"

Peep! Peep! Peep! Here we go!

","elementId":"d004684e-eb6f-46ff-98c6-dc2923b8f8d8″}],"attributes":{"pinned":false,"keyEvent":true,"abstract":false},"blockCreatedOn":1665428287000,"blockCreatedOnDisplay":"14.58 EDT","blockLastUpdated":1665428409000,"blockLastUpdatedShow":"15.00 EDT","blockFirstRevealed":1665428409000,"blockFirstPublishedDisplay":"15.00 EDT","blockFirstPublishedDisplayNoTimezone":"15.00″,"identify":"Kick-off","individuals":[],"primaryDateLine":"Mon 10 Oct 2022 15.51 EDT","secondaryDateLine":"First revealed on Mon 10 Oct 2022 14.00 EDT"},{"identity":"63445d6b8f08e0a590ae1db2″,"parts":[{"_type":"model.dotcomrendering.pageElements.TextBlockElement","html":"

Nottingham Forest (4-3-3): Henderson; Aurier, Cook, McKenna, Toffolo; Kouyate, Freuler, Yates; Gibbs-White, Dennis, Johnson

","elementId":"3935cedc-fbf7-4488-95e2-9e3acd3d1002″},{"_type":"model.dotcomrendering.pageElements.TextBlockElement","html":"

Subs: Hennessey, Boly, Worrall, Williams, O'Brien, Mangala, Lingard, Awoniyi, Surridge

Aston Villa (4-3-2-1): Martinez; Cash, Konsa, Mings, Young; McGinn, J Ramsey, Douglas Luiz; Buendia, Coutinho; Watkins

","elementId":"6dd3f888-fb89-46ac-a266-1e588c43f8e5″},{"_type":"model.dotcomrendering.pageElements.TextBlockElement","html":"

Subs: Olsen, Sanson, Ings, Chambers, Bednarek, Dendoncker, Archer, Bogarde, Nakamba

","elementId":"92a3445b-9278-4baa-86fe-74900b9abb39″}],"attributes":{"pinned":false,"keyEvent":true,"abstract":false},"blockCreatedOn":1665424827000,"blockCreatedOnDisplay":"14.00 EDT","blockLastUpdated":1665425022000,"blockLastUpdatedShow":"14.03 EDT","blockFirstRevealed":1665425022000,"blockFirstPublishedDisplay":"14.03 EDT","blockFirstPublishedDisplayNoTimezone":"14.03″,"identify":"Starting lineups","individuals":[],"primaryDateLine":"Mon 10 Oct 2022 15.51 EDT","secondaryDateLine":"First revealed on Mon 10 Oct 2022 14.00 EDT"},{"identity":"6343cc5f8f088272fbb9f059″,"parts":[{"_type":"model.dotcomrendering.pageElements.TextBlockElement","html":"

What another week it has been on the Nottingham Forest Premier League rollercoaster. After their 4-0 thumping at Leicester last Monday it looked like Steve Cooper's days at the City Ground were numbered. They have sounded out replacements but in the end Cooper signed a new contract, much to the surprise of many in Nottingham. When not trying to find a new head coach, the club were also dealing with claims that their chief executive and the recruitment team were getting their marching orders, which transpired to not be true.

","elementId":"8e958f28-a0ab-4081-893c-dbc4ed7d3d81″},{"_type":"model.dotcomrendering.pageElements.TextBlockElement","html":"

Forest have four points from eight games after their summer of signing almost an entire new squad. If they beat Villa this evening, however, they will only be one point behind Steve Gerrard's side in the table. Admittedly, Forest have lost their past five matches so it is a tough but they achievable task ahead of them.

","elementId":"341f1429-33ac-4639-b8fe-a2f2892b0b2c"},{"_type":"model.dotcomrendering.pageElements.TextBlockElement","html":"

Villa come here as the sideshow, few remembering what an earth they have done recently due to circus at City Ground. They are unbeaten since the end of August and will be optimistic of extending that run against the league's bottom club.

","elementId":"b49cfdcf-3c97-4bd8-8f47-03dc476c08a4″},{"_type":"model.dotcomrendering.pageElements.TextBlockElement","html":"

Let's hope for a cracker!

","elementId":"eec958e1-a54c-4415-ac30-634c39e4e38c"},{"_type":"model.dotcomrendering.pageElements.TextBlockElement","html":"

Kick-off: 8pm BST

","elementId":"7376e177-6a79-4195-8762-301a96243b99″}],"attributes":{"pinned":false,"keyEvent":true,"abstract":false},"blockCreatedOn":1665424827000,"blockCreatedOnDisplay":"14.00 EDT","blockLastUpdated":1665405184000,"blockLastUpdatedShow":"08.33 EDT","blockFirstRevealed":1665424827000,"blockFirstPublishedDisplay":"14.00 EDT","blockFirstPublishedDisplayNoTimezone":"14.00″,"identify":"Preamble","individuals":[],"primaryDateLine":"Mon 10 Oct 2022 15.51 EDT","secondaryDateLine":"First revealed on Mon 10 Oct 2022 14.00 EDT"}],"clear outKeyOccasions":false,"layout":{"show":0,"theme":2,"design":10},"identity":"key-events-carousel-mobile"}">

Key occasions
Kári Tulinius says: "Forest are much improved. This is the first time I've watched them this season and thought they had a chance to stay up. However, I'm starting to get a bad feeling about Villa. It's a team with plenty of skilful players, but the build-up play is so aimless that there's rarely any space to create a chance."
"Awful game so far…" says John Ryan. "Instead of goals, could we just do shots on target, like first to five wins? Having said that no, we could be here till next week then…"
Email Richard Masters.
The excellent information is that Forest glance way more disciplined in formation this time round.
Half-time: Nottingham Forest 1-1 Aston Villa
It is stage at half-time, which is a particularly reasonable mirrored image of the fit to this point. Neither staff has examined the goalkeeper aside from the objectives. Neither staff appears to be like top on self belief and so they can not get their ingenious avid gamers into the fit. Will issues open up in the second one?
45 minutes: Two mins added on.
44 minutes: Konsa sends a tremendous go via an opening for Cash who pulls the ball again into the field however Freuler reads the risk and clears for a nook. The nook is definitely labored however Douglas Luiz's shot is blocked and Forest get rid, forcing Konsa to curtail the counter with a nasty on Gibbs-White.
42 minutes: I believe each groups could be content material to get to half-time stage at this level. It's now not been a recreation top on high quality.
40 minutes: Yates is fouled whilst seeking to transparent, which is lucky for him as he made a few deficient choices within the few previous seconds to place his staff in hassle.
38 minutes: Ramsey is tripped by way of Freuler simply out of doors the field to provide Villa a free-kick in a deadly place. Douglas Luiz takes intention however whacks it directly into the wall and Forest transparent.
Kouyate and Buendia have a bit of pushing fit, then a couple of in their teammates get entangled. It's all rather petty and Anthony Taylor brings the 2 midfielders in combination to calm tensions.
36 minutes: Aurier curls in a go from the precise along with his left foot for Kouyate to assault however the midfielder will get no energy into it and Martinez simply grabs hang.
34 minutes: Young catches Dennis at the ankle, a lot to the Nigerian's dismay.
Buendia and Coutinho are such extremely ingenious avid gamers however they've slightly been concerned to this point.
32 minutes: Villa playing a excellent spell of ownership as Forest glance to stick of their compact defensive form to stay them at bay.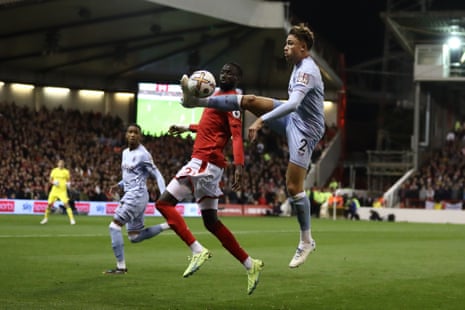 30 minutes: Douglas Luiz is in a heap at the flooring after being stuck by way of Freuler. He sooner or later will get up after now not being given a free-kick.
28 minutes: Cook is now on 4 bookings in 5 video games, which isn't the signal of a person on top of things with the extent he's enjoying at.
26 minutes: NO GOAL! McGinn performs the ball out to the left for Ramsey to go into the field to a ready Watkins to slip house from shut vary, most effective to peer the offside raised and the function is rightly disallowed.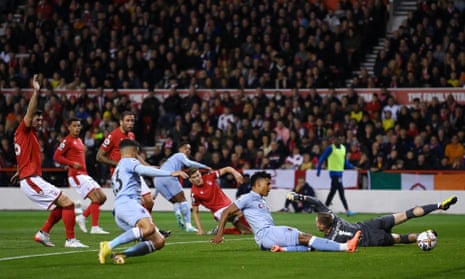 Cook is going into the e book for lunging at Ramsey within the Villa field. What a deficient problem from the defender.
24 minutes: This all feels a bit of acquainted … Forest want to regain their composure. Cooper was once unsatisfied with a problem on Yates within the field sooner than the function however there was once not anything in it.
GOAL! Nottingham Forest 1-1 Aston Villa (Young, 22)
WHAT A HIT! Cook heads the ball out to Young, who takes a marginally and completely pings a low shot into the ground nook from 25 yards out.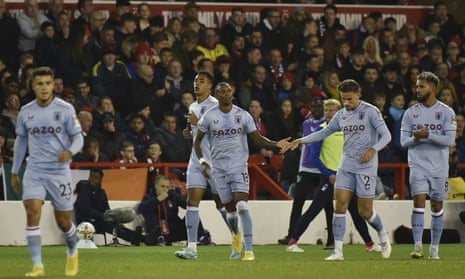 19 minutes: Aurier slides in on Ramsey and is rightly booked for a reckless problem. It seems like the defender went in with two ft off the ground. There is a handy guide a rough VAR take a look at and the yellow card is observed as an appropriate punishment. Aurier truly is a legal responsibility now and then.
17 minutes: Forest should ensure that they're much less open than in earlier losses at City Ground after they took the lead in opposition to Bournemouth and Fulham sooner than dropping.
GOAL! Nottingham Forest 1-0 Aston Villa (Dennis, 15)
Gibbs-White swings within the free-kick from the precise onto the top of Dennis who's left unmarked and nods house from seven yards out. Huge second for Forest however they've given up leads sooner than.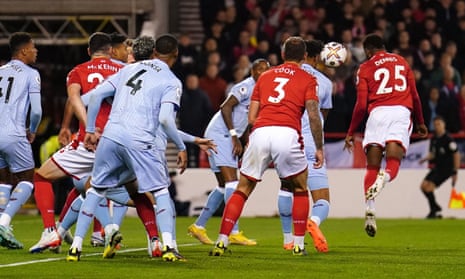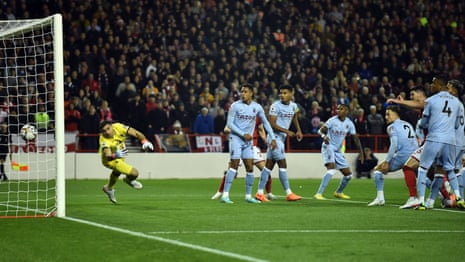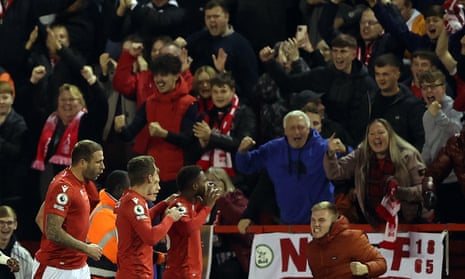 14 minutes: Johnson cuts within and sends a go into the field however Dennis is nowhere to be observed and Villa transparent. Dennis does higher seconds later as he's fouled by way of Mings at the correct to present Forest a free-kick in a deadly space.
13 minutes: Coutinho whacks the free-kick directly into McKenna's face which is excellent news for Forest however much less so for the defender.
12 minutes: Buendia bursts via Freuler and Kouyate, and is fouled by way of hassle of them round 25 yards from function. Coutinho and Douglas Luiz line it up …
10 minutes: When protecting it seems like Johnson and Gibbs-White are enjoying as auxiliary full-backs. Cooper truly is making an attempt to make Forest tougher to damage down this night.
8 minutes: Forest now not providing anything else within the ultimate 3rd. Dennis is but to the touch the ball.
Cash breaks down the precise however his go is beautiful woeful and finally ends up going out for a throw-in at the reverse facet.
6 minutes: Buendia is at the deck after a midair conflict with Freuler. Looks just like the Argentinian has sore ribs following the incident.
4 minutes: Buendia appears to be like to slip a ball via for Watkins however he's wiped clean out within the procedure by way of a overdue foul from Toffolo. The left-back is fortunate to break out with no reserving.
Douglas Luiz takes a brief nook to McGinn whose shot is blocked. Forest glance a bit of flat.
2 minutes: It is a again 4 for Forest. Will Cook have the ability to take care of Watkins? They are protecting with 5 throughout midfield recently.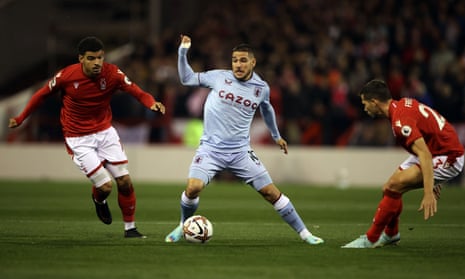 Peep! Peep! Peep! Here we cross!
Cooper comes out for a spherical of applause from the enthusiasts and takes his position within the dugout.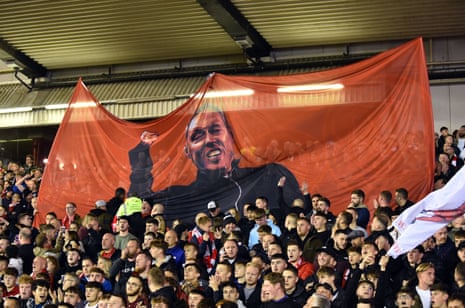 Steve Cooper: "I was recently disappointed with the performance and result at Leicester. Having reviewed it, it was far away from what we want.
"There's been some strong conversations and reflections, which have come from the players as well. That's how we like to work.
"I make no secret that we do have a lot of new players, so we are trying to find the right blend and team. What I will say about changes, it gives opportunities and when you are given them, you have to take them."
"The sight of players like Henderson and Lingard in the squad is a reminder that this club won two European Cups with plenty of 'rejects' with a point to prove in Clough and Taylor's teams," emails Justin Kavanagh. "Could Kouyaté be the next Kenny Burns? Those days are probably gone but it's good to see a coach get a chance to at least try to build a new team."
I believe Burns arrived with the most productive years forward of him, I'm really not certain the similar might be stated of Kouyate.
A brand new face on the City Ground. How palms on will Filippo Giraldi be? It might be attention-grabbing to peer what he has deliberate.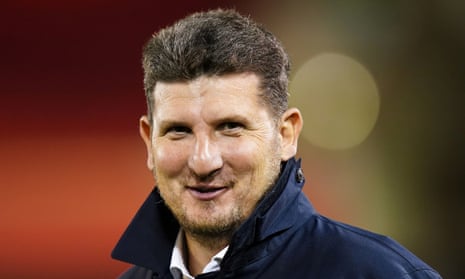 Like one of the most readers, I've very tremendous reminiscences on Monday nights in Nottingham, as Martin can verify.
It is 5 adjustments in overall which is an indication of ways tricky Cooper has discovered it to nail down a beginning XI following the inflow of avid gamers. It is attention-grabbing to peer that Lingard is at the bench for this one – he has truly regarded off the tempo since arriving on a unfastened. The pricey gamble appears to be like a deficient one these days.
Matty Cash is again the place it began.
I'm guessing it is going to be a 4-3-3 for Forest as a result of Cooper may use Kouyate as a centre-back and raise on with simply two central midfielders however the program has now not labored within the Premier League following its luck ultimate season.
Some attention-grabbing Forest staff information as a result of Dennis makes his complete league debut, Aurier is most popular at right-back, Steve Cook assists in keeping his position and it seems like Cooper is adopting a three-man central midfield.
Nottingham Forest (4-3-3): Henderson; Aurier, Cook, McKenna, Toffolo; Kouyate, Freuler, Yates; Gibbs-White, Dennis, Johnson
Subs: Hennessey, Boly, Worrall, Williams, O'Brien, Mangala, Lingard, Awoniyi, Surridge
Aston Villa (4-3-2-1): Martinez; Cash, Konsa, Mings, Young; McGinn, J Ramsey, Douglas Luiz; Buendia, Coutinho; Watkins
Subs: Olsen, Sanson, Ings, Chambers, Bednarek, Dendoncker, Archer, Bogarde, Nakamba
What every other week it's been at the Nottingham Forest Premier League rollercoaster. After their 4-0 thumping at Leicester ultimate Monday it seemed like Steve Cooper's days on the City Ground had been numbered. They have sounded out replacements however after all Cooper signed a brand new contract, a lot to the wonder of many in Nottingham. When now not looking for a brand new head trainer, the membership had been additionally coping with claims that their leader government and the recruitment staff had been getting their marching orders, which transpired not to be true.
Forest have 4 issues from 8 video games after their summer season of signing virtually a whole new squad. If they beat Villa this night, alternatively, they are going to most effective be one level in the back of Steve Gerrard's facet within the desk. Admittedly, Forest have misplaced their previous 5 suits so this is a tricky however they achievable process forward of them.
Villa come right here because the sideshow, few remembering what an earth they've achieved just lately because of circus at City Ground. They are unbeaten because the finish of August and might be constructive of extending that run in opposition to the league's backside membership.
Let's hope for a cracker!
Kick-off: 8pm BST