.innerbackgroundwrap, #fullwrap { background-color: #ffffff}@media display screen and (max-width: 800px) {html { margin-top: 0 !necessary; }}h1, h2, h3, h4, h5, h6 { font-family: Lora; font-weight: 500; }a, a:visited, a h3, h3 a, .widgetheadline a, a .widgetheadline { coloration: #ffcc00; }a:hover, a:hover h3, a:hover .widgetheadline, h3 a:hover, .widgetheadline a:hover { coloration: #ffcc00; text-decoration: underline; }a h3.homeheadline, a.homeheadline, a.headline, #content material h1 a, .widgetheadline .headline, .storyheadline a, .searchheadline, h2.searchheadline, h2.searchheadline a, h2.catprofile a, #searchapge h2, #catpage h2, .maingridheadline, .homeheadline { coloration: #000000 !necessary; font-family: Lora !necessary; font-weight: 600; }.topboxsmallwide h3, topboxsmall h3, .desc h3, .relatedtitle {font-family: Lora !necessary; font-weight: 600; }a:hover h3.homeheadline { coloration: #000000 !necessary; text-decoration:underline !necessary; }#homepagefull h3.gridfallback, .bottom-row-blocks h3, .top-row-blocks h3 { font-family: Lora !necessary; font-weight: 600; }.storyheadline { font-family: Lora !necessary; font-weight: 600; }#storypage h1 {font-size: 4.6em !necessary;text-align: middle !necessary;}#storyrails h1 {font-size: 4.6em !necessary;text-align: middle;}#classic_story h1 {font-size: 4.6em !necessary;text-align: middle !necessary;}.innerbackgroundwrap { background: #fff; }#sno_teaserbar { peak: -80px; }.sno_teaserbar #stb-container { background: #fff !necessary; }.sno_teaserbar_home #stb-container { background: #fff !necessary; }.sno_teaserbar .stb_left:hover, .sno_teaserbar .stb_right:hover { coloration: #023597; }.sno_teaserbar_home .stb_left:hover, .sno_teaserbar_home .stb_right:hover { coloration: #023597; }.photo-container, .caption-container, .slideshow-caption-container a, .caption-container a, .photo-caption-container a { coloration: #fff !necessary; }.remodal-story-image, .remodal-story-image .flexslider, #sfi-email { background: #000 !necessary; }#sfi-email {border: 1px cast #fff; }#sfi_submit_email, #sfi_cancel_email { coloration: #000; }.sfi-title a, .sfi-title a:hover { coloration: #fff; }.sfi-title a:hover { border-bottom: 1px cast #fff;}.sfi-right:hover, .sfi-left:hover { coloration: #ffcc00;}@media best display screen and (min-width: 1100px) and (max-width: 1199px) {#classic_story #contentleft p { font-size:17px; line-height:27px; }}#storyrails #content material { margin: 0 auto; }@media best display screen and (min-width: 1100px) {.full-width .postarea { width: 900px;}}#leaderboard, #footeradboard { max-width: 1200px; }#catpage .catlist-tile-media-photo { peak: 257.77777777778px; max-height: 257.77777777778px; }.catlist-tile {border-radius: 5px;}.catlist-tile-inner {border: 0px cast #dddddd;border-radius: 5px;}.catlist-tile img {border-radius: 5px 5px 0 0;}.catlist-tile-media-video, .catlist-tile-media-photo {border-radius: 5px 5px 0 0;}.catlist-tile-media-photo {peak: 253.33333333333px;max-height: 253.33333333333px;overflow: hidden;}.catlist-tile-textarea.sno-center-v-list {left: 15px;appropriate: 15px;}.catlist_tiles_wrap .sno-infinite-scroll-button, #category-widgets .sno-infinite-scroll-button {margin-bottom: 20px;}.catlist-tile-media-photo {background: #dddddd;}.catlist-tile-media-photo img {object-fit: comprise;}.catlist-tile-inner {padding-left: 15px;padding-right: 15px;}.catlist-tile-media-photo, .catlist-tile-media-video {margin-left: -15px;width: calc(100% + 15px + 15px);}@media best display screen and (min-width: 980px) {.catlist_tiles_wrap div:nth-child(3n) { margin-right: 0; }.catlist-tile {width: calc((100% / 3) – 13.333333333333px);margin-right: 20px;margin-bottom: 20px;background: #efefef;}}@media best display screen and (min-width: 600px) and (max-width: 979px) {.catlist-tile {width: calc((100% / 2) – 13.333333333333px);margin-right: 20px;margin-bottom: 20px;background: #efefef;}.catlist_tiles_wrap div:nth-child(2n) { margin-right: 0;}}@media best display screen and (max-width: 599px) {.catlist-tile {width: 100%;margin-bottom: 20px;background: #efefef;}}#catpage .catlist-tile h2 {font-size: 22px;line-height: 1.35em;margin-bottom: 15px;margin-top: 15px;text-align: middle;}#catpage .catlist-tile .catlist-meta {text-align: middle;font-size: 14px;margin-bottom: 15px;}#catpage .catlist-tile .catlist-deck {text-align: middle;font-size: 20px;line-height: 1.35em;margin-bottom: 15px;font-style: commonplace;}#catpage .catlist-tile .catlist-teaser, #catpage .catlist-tile .catlist-teaser p {font-size: 14px;line-height: 1.45;margin-bottom: 15px;}.catlist-tile ul.snotags {text-align: middle;margin-bottom: 15px;}.catlist-tile .proceed {margin-bottom: 15px;}@media best display screen and (min-width: 980px) and (max-width: 1200px) {#catpage #content material {padding-left: 20px;padding-right: 20px;width: calc(100% – (2 * 20px));}}#staffpage .staffheading h1 {coloration: #000000;}.catlist-tile-media-photo {peak: 253.33333333333px;max-height: 253.33333333333px;overflow: hidden;}#staffpage .catlist-tile {border-radius: 5px;border: 0px cast #eeeeee;width: calc((100% / 3) – 13.333333333333px – 0px – 0px);}#staffpage .catlist-tile-inner {border: 0px cast #dddddd;border-radius: 5px;}#staffpage .catlist-tile-media-photo {border-radius: calc(5px – 0px) calc(5px – 0px) 0 0;}#staffpage .catlist-tile-media-photo img {object-fit: comprise;}#staffpage .catlist-tile {background: #efefef;coloration: #000000;}#staffpage .catlist-tile h2 a {coloration: #000000 !necessary;}#staffpage .catlist-tile-media-photo {background: #dddddd;}#staffpage .staffnameblock {text-align: middle;}#staffpage .catlist-tile h2 {font-size: 20px;text-align: middle;font-weight: commonplace;font-style: commonplace;}#staffpage .catlist-tile .catlist-teaser, #staffpage .catlist-tile .catlist-teaser p {font-size: 14px;line-height: 1.5em;}@media best display screen and (min-width: 980px) {#staffpage .catlist_tiles_wrap div:nth-child(3n) { margin-right: 0; }#staffpage .catlist-tile {width: calc((100% / 3) – 13.333333333333px – 0px – 0px);margin-right: 20px;margin-bottom: 20px;background: #efefef;}}@media best display screen and (min-width: 600px) and (max-width: 979px) {#staffpage .catlist-tile {width: calc((100% / 2) – 13.333333333333px) – 0px – 0px;margin-right: 20px;margin-bottom: 20px;background: #efefef;}#staffpage .catlist_tiles_wrap div:nth-child(2n) { margin-right: 0;}}@media best display screen and (max-width: 599px) {#staffpage .catlist-tile {width: calc(100% – 0px – 0px);margin-bottom: 20px;background: #efefef;}}.profile_icon {margin-right: 10px;border-radius: 7px;width: 40px;peak: 40px;}.profile_icon i {line-height: 40px;width: 40px;font-size: calc(40px * 3 / 4);}.profile_bio_wrap {margin-top: 40px;margin-bottom: 40px;width: calc(70% – 20px – 20px – 0px – 0px);background: #ffffff;coloration: #000000;padding: 20px;border-radius: 5px;border: 0px cast #cccccc;}@media best display screen and (max-width: 980px) {.profile_bio_wrap {width: calc(100% – 20px – 20px – 0px – 0px);}}.profile-panel-media {width: 200px;peak: 133.33333333333px;margin-bottom: calc(0px + 0px);margin-right: calc(15px + 0px + 0px);}@media best display screen and (max-width: 800px) {.profile-panel-media {margin-left: auto;margin-right: auto;drift: unset;margin-bottom: 40px;}}.profile-textarea-with-media {width: calc(100% – 215px – 0px – 0px – 20px – 20px);padding-left: 20px;padding-right: 20px;}.profile-textarea-with-media.sno-center-v-outer {left: 20px;appropriate: 20px;peak: calc(133.33333333333px + 0px + 0px);padding-left: 0;padding-right: 0;}.profile-textarea {padding-left: 20px;padding-right: 20px;}@media best display screen and (max-width: 800px) {.profile-textarea-with-media {width: calc(100% – 20px – 20px);}}@media best display screen and (max-width: 600px) {.profile-textarea-with-media, .profile-textarea {padding-left: 0;padding-right: 0;width: 100%;}.profile-textarea-with-media.sno-center-v-outer {left: 0;appropriate: 0;peak: auto;}.profile-textarea-inner.sno-center-v {place: relative;peak: 0;grow to be: unset;}}.profile-panel-media img {border-radius: 5px;object-fit: quilt;border: 0px cast #000000 !necessary;}#catpage .profile-panel-inner h2 {text-align: left;font-size: 20px !necessary;coloration: #000000 !necessary;}.profile-panel-inner p {font-size: 14px;}.profile-sharing-area {text-align: left;}.sno-staff-profile-bar {background: #ffffff;coloration: #000000;margin-top: 20px;}.sno-staff-profile-bar {border-top: 1px cast #cccccc;border-bottom: 1px cast #cccccc;}#catpage .profilepreviewbox, #catpage .categorypreviewbox {background: !necessary;}.catlist_fullwidth .catlist-panel-inner {background: #ffffff;}.catlist_fullwidth.catlist-panel {padding-top: 30px;padding-bottom: 30px;background: #ffffff;}.catlist_fullwidth.catlist-panel {border-bottom: 1px cast #eee;}.catlist_fullwidth .catlist-panel-media {drift: left;width: 50%;max-width: 50%;margin-right: 15px;background: #eeeeee;}.catlist_fullwidth .catlist-panel-media {peak: 400px;max-height: 400px;}.catlist_fullwidth .catlist-video-wrap { place: absolute; left: 0; appropriate: 0; peak: 50%; grow to be: translateY(-50%); }.catlist_fullwidth .catlist-panel-media img {object-fit: comprise;}.catlist_fullwidth .catlist-textarea-with-media {drift: appropriate;width: calc(50% – 15px – 80px);padding-left: 40px;padding-right: 40px;}.catlist_fullwidth .catlist-textarea {padding-left: 80px;padding-right: 80px;}#catpage .catlist_fullwidth.catlist-panel h2 {font-size: 28px;line-height: 1.35em;text-align: middle;margin-bottom: 15px;}#catpage .catlist_fullwidth.catlist-panel .catlist-deck {text-align: middle;font-size: 20px;line-height: 1.35em;margin-bottom: 15px;font-style: commonplace;}#catpage .catlist_fullwidth.catlist-panel .catlist-meta {text-align: middle;font-size: 16px;margin-bottom: 15px;}#catpage .catlist_fullwidth.catlist-panel .catlist-teaser {font-size: 16px;line-height: 1.45;margin-bottom: 15px;text-align: left;}.catlist_fullwidth.catlist-panel ul.snotags {text-align: middle;}.catlist_fullwidth.catlist-panel .proceed {text-align: middle;margin-bottom: 15px;}.catlist_fullwidth .catlist-textarea-with-media {place: absolute;appropriate: 0;peak: 50%;grow to be: translateY(-50%);}#catpage .postarea.catlist_with_sidebar {width: calc(100% – 320px – 20px); }.catlist_sidebar .catlist-panel-inner {background: #ffffff;}.catlist_sidebar.catlist-panel {padding-top: 15px;padding-bottom: 15px;background: #ffffff;}.category-pagination {background: #ffffff;}.catlist_sidebar.catlist-panel {border-bottom: 1px cast #eeeeee;}.catlist_sidebar .catlist-panel-media {drift: appropriate;width: 283px;max-width: 283px;margin-left: 15px;margin-bottom: 15px;background: #ffffff;}.catlist-textarea .catlist-teaser {drift: left;}.catlist_sidebar .catlist-panel-media img {object-fit: comprise;}.catlist_sidebar .catlist-textarea-with-media {/*drift: left; *//*width: calc(537px – 15px – 0px – 0px); *//*width: 537px; */}.catlist_sidebar .catlist-textarea {padding-left: 0px;padding-right: 0px;}#catpage .catlist_sidebar.catlist-panel h2 {font-size: 28px;line-height: 1.35em;margin-bottom: 15px;}#catpage .catlist_sidebar.catlist-panel .catlist-deck {font-size: 20px;line-height: 1.35em;margin-bottom: 15px;font-style: commonplace;}#catpage .catlist_sidebar.catlist-panel .catlist-meta {text-align: left;font-size: 14px;margin-bottom: 15px;}#catpage .catlist_sidebar.catlist-panel .catlist-teaser {font-size: 14px;line-height: 1.45;margin-bottom: 15px;}.catlist_sidebar.catlist-panel ul.snotags {text-align: left;}.catlist_sidebar.catlist-panel .proceed {text-align: left;margin-bottom: 15px;}.sno-comment-bar { background: #efefef; coloration: #000000;border: 1px cast #dddddd;padding: 10px;font-size: 16px;line-height: 16px;}.sno-side-icons {peak: 50%;appropriate: 5px;backside: unset;left: unset;grow to be: translateY(-50%);width: 52px;}.sno-side-icon {margin-bottom: 5px;width: 42px;peak: 42px;line-height: 40px;font-size: 20px;border-radius: 30px;}.sno-side-icon:hover {}.sno-side-icon-ring {width: 40px;peak: 40px;border-width: 1px;border-radius: 30px;}.sno-side-icon-bubble {background: #ff0000;coloration: #ffffff;appropriate: -7px;peak: -7px;appropriate: -7px;left: unset;}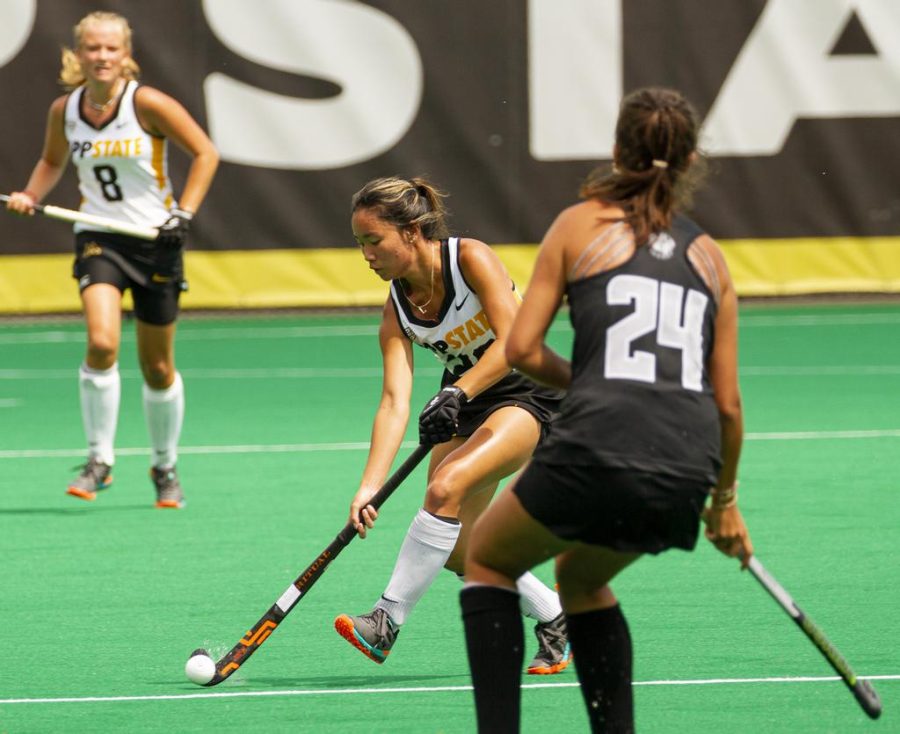 Ben Brady, Reporter
September 21, 2022
Despite a overdue purpose to chop its two purpose deficit to at least one, App State field hockey fell 2-1 to Kent State in its Middle Atlantic Conference opener Sunday. The Mountaineers dropped to 3-3 at the season and 0-1 in conference play of their fourth-straight away sport. 
The fit remained scoreless thru 3 quarters earlier than the Golden Flashes struck two times, construction a 2-0 lead. 
Graduate scholar midfielder Friederike Stegen scored the lone purpose for the Mountaineers with 3 mins ultimate. Stegen, who was once named to the All-MAC first workforce ultimate season and is this system's all time chief in assists, recorded her 5th purpose of the season, tied for first within the conference. She additionally moved into a primary position tie for many overall issues within the conference this season with 10. 
App State tallied 4 shot makes an attempt to Kent State's 14, together with best two pictures on purpose to the Golden Flashes 8. Senior goalkeeper Addie Clark recorded six saves within the sport. 
App State is dealing with conference competitors in 4 of its subsequent six suits, together with 3 at house. After shedding 3 suits in a row, the workforce holds the fourth absolute best general file within the conference.
The Mountaineers go back to Boone this weekend for a couple of house suits, as they face conference rival Central Michigan Friday at 5 p.m. and Wake Forest Sunday at midday.
About the Contributor
Ben Brady, Reporter
Ben Brady (he/him) is a junior journalism main, historical past minor, from Raleigh, NC. This is his 3rd 12 months with The Appalachian.